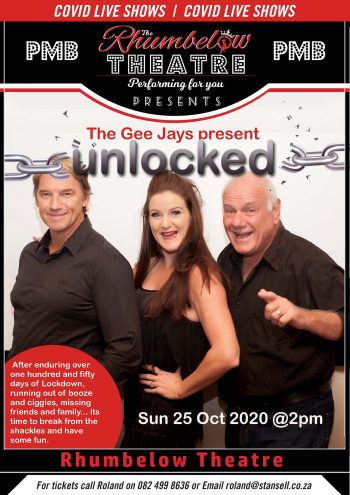 UNLOCKED
25th Oct 2020 - 25th Oct 2020
Starring
THE GEE JAYS - Grant Bell, John Didlick & Marion Loudon
Facebook Page
About The Show
RHUMBELOW THEATRE PMB
Allan Wilson Shellhole, PMB
ALL TICKETS MUST BE PRE-BOOKED
NO WALKINS ALLOWED
PLEASE NOTE THE FOLLOWING
COVID-19 PROTOCOLS FOR PATRONS
UNLOCKED
THE GEE JAYS - Grant Bell, John Didlick & Marion Loudon
SUNDAY 25 OCT 2020 Show starts 14.00 – PMB
SUNDAY 25 OCT 2020 Show starts 18.30 – PMB - EXTRA SHOW ADDED
(Venue opens 60 minutes before show for snacks/drinks)
If ever there was a time to let loose and have some fun, it is now!
After enduring over one hundred and fifty days of Lockdown, running out of booze and ciggies, missing friends and family, dealing with fake news, corruption, social distancing and coming to terms with the "new normal", its time to break from the shackles and have some fun.
The Gee Jays has the antidote: and the recipe is simple: fun and laughter with friends and family. The Gee Jays have been dishing out this remedy for over three decades and this offering won't disappoint. Expect to enjoy songs from great artists such as ABBA, Elvis, Neil Diamond, Frank Sinatra, Phil Collins, The Temptations, Nat King Cole, Dean Martin, Aretha Franklin, The Beatles, The Bee Gees, Michael Bublé, Elton John, Queen and many more. The Gee Jays are famous for their song parodies, tongue in cheek humour and tight harmonies.
The show offers entertainment that will take the weight off your shoulders and put a smile on your dial so break free and join the Gee Jays at the Rhumbelow Theatre .
Whilst we are not changing our 2020 pricing, we would ask that if you are able to please assist us and the performers by donating a higher ticket price.
R 160-00 a ticket
(R 140-00 Pensioners)
(R 140-00 Students with a valid student card)
Loyalty Card Holders (R 130-00) ALL SHOWS
Bring food picnic baskets or support the MOTHS - Prego rolls R 35-00 each.
ALL SEATING WILL BE AT SEPARATE TABLES AND WE WILL OBVIOUSLY BE SEATING CO-HABITING COUPLES AND/OR FAMILY MEMBERS.
50 % MAX CAPACITY PER SHOW
Limited secure parking available
Booking is essential.
Bar Available
(no alcohol may be brought on to the premises)
Cell 0824998636
BOOKINGS ON EMAIL PLEASE : roland@stansell.co.za
http://events.durbantheatre.com/
For showbiz news, reviews and interviews don't miss Billy Suter's Website at https://sosuterbill.com/
PLEASE NOTE THE FOLLOWING
COVID-19 PROTOCOLS FOR PATRONS
HEALTH AND SAFETY PROTOCOLS FOR PATRONS

Patrons need to wear a face and nose covering at all times in the venue except when eating or drinking.
All patrons will have their temperatures taken on arrival at the venue.
All patrons will be required to complete documents relating to Travel and Covid-19 contacts.
All patrons will be required to complete an indemnity form.
All patrons will be required to complete an attendance register with all appropriate information including confirmation of co-habiting when couples attend.
All patrons will be hand sanitized on arrival and at interval.
All patrons will be requested to bring hand sanitizer with them to the venue.
Any patron who does not meet the required Health & Safety protocols and temperature check will be refused entry.
Patrons above the age of 60 or a person with co-morbidities will be discouraged from attending performances. PLEASE NOTE THAT THIS IS A GOVT GUIDELINE. PLEASE BE GUIDED BY YOUR OWN HEALTH STATUS