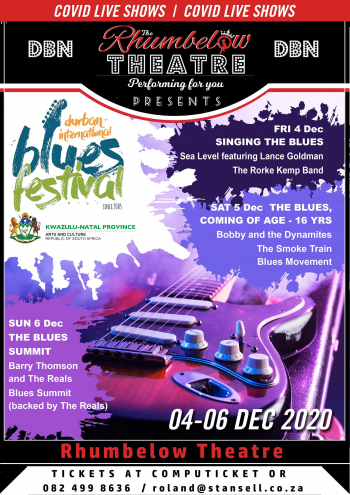 DURBAN INTERNATIONAL BLUES FESTIVAL
4th Dec 2020 - 6th Dec 2020
Starring
CompuTicket
Facebook Page
About The Show
RHUMBELOW THEATRE
42 Cunningham Rd off Bartle Road, Durban
ALL TICKETS MUST BE PRE-BOOKED
NO WALKINS ALLOWED
DURBAN INTERNATIONAL BLUES FESTIVAL
Sponsored by
The Department of Arts & Culture
Kwa-Zulu Natal Province
Kingston Live has been part of the Durban International Blues Festival team from the birth of the event and are proudly providers of the backline for this year's festival .
The Blues Festival will be featuring 2 bands each night interspersed with AV sent from our International Artists who could not join us this year.
FRIDAY 04 DEC 2020 Show starts 19.15 – DBN
SINGING THE BLUES
SEA LEVEL featuring Lance Goldman
THE RORKE KEMP BAND
SATURDAY 05 DEC 2020 Show starts 19.15 – DBN
THE BLUES, COMING OF AGE – 16 YEARS
BOBBY & THE DYNAMITES
THE SMOKE TRAIN BLUES MOVEMENT
SUNDAY 06 DEC 2020 Show starts 13.45 – DBN
THE BLUES SUMMIT
BARRY THOMSON & THE REALS
BLUES SUMMIT – backed by The Reals
(Venue opens 90 minutes before show for snacks/drinks)
THE SHOW MUST GO ON!
2020 has certainly been a challenge for most of us, no less the entertainment and eventing industry. Covid 19 shook us from every angle and the struggle to "keep things afloat" is no stranger!
The Durban International Blues Festival 2020 team certainly have had to deal with these industry issues- but the warriors that they are, along with their ever loyal (main) sponsors, The Department of Arts and Culture believe: NEVER SAY DIE !
New strategies, new plans and a new way of doing things have been the inspiration behind this year's event which will take place 4 – 6 December and there is no better place to hold the event- with all Covid rules in governance- than at Roland Stansell' s Rhumbelow Theatre in Umbilo (Durban KZN).
Program Director, Will Wallace has been able to stretch the budget allocated from the Department of Arts and Culture and the line-up includes local bands Rorke Kemp, Sea Level (featuring Lance Goldberg), Bobby and the Dynamites, and Smoke Train. The Reals are the backing band for The Blues Summit on the Sunday and who could go wrong with them in the mix.
The performances are live – but with a twist! Local artists will perform live but since our international Blues friends couldn't come to Durban in person due to Covid restrictions, they have willingly agreed to participate in a video production to be screened at the show. The line- up is formidable with some of our past performers supporting us wholeheartedly: Liz Mandeville (USA), Toronzo Cannon (USA), Fiona Boyes (Aus), Pat Savage (Canada), Charlie Love (USA), Donna Herula (USA), Yamil Jacobo (Argentina).
There will be a Merch Table so bring a few extra scheckel's for this too. Concorde Printers have a few Blues tee shirts and artists will have CD's at the table.
Keep watching these pages and also visit FRIENDS OF THE DURBAN INTERNATIONAL BLUES FESTIVAL and DURBAN INTERNATIONAL BLUES FESTIVAL on Facebook for early information or go to www.durbanbluesfestival.co.za.
Whilst we are not changing our 2020 pricing, we would ask that if you are able to please assist us and the performers by donating a higher ticket price.
R 160-00 a ticket
(R 140-00 Pensioners)
(R 140-00 Students with a valid student card)
Loyalty Card Holders (R 130-00) ALL SHOWS
Bring food picnic baskets or buy from Kevin.
ALL SEATING WILL BE AT SEPARATE TABLES AND WE WILL OBVIOUSLY BE SEATING CO-HABITING COUPLES AND/OR FAMILY MEMBERS.
Limited secure parking available
Booking is essential.
Full Bar Available
(no alcohol may be brought on to the premises)
Cell 0824998636
BOOKINGS ON EMAIL roland@stansell.co.za or COMPUTICKET
http://events.durbantheatre.com/
For showbiz news, reviews and interviews don't miss Billy Suter's Website at https://sosuterbill.com/
PLEASE NOTE THE FOLLOWING
COVID-19 PROTOCOLS FOR PATRONS
HEALTH AND SAFETY PROTOCOLS FOR PATRONS

Patrons need to wear a face and nose covering at all times in the venue except when eating or drinking.
All patrons will have their temperatures taken on arrival at the venue.
All patrons will be required to complete documents relating to Travel and Covid-19 contacts.
All patrons will be required to complete an indemnity form.
All patrons will be required to complete an attendance register with all appropriate information including confirmation of co-habiting when couples attend.
All patrons will be hand sanitized on arrival and at interval.
All patrons will be requested to bring hand sanitizer with them to the venue.
Any patron who does not meet the required Health & Safety protocols and temperature check will be refused entry.
Patrons above the age of 60 or a person with co-morbidities will be discouraged from attending performances. (GOVT GUIDELINES – please be guided by your own health status)
SHORT SYNOPSIS ABOUT EACH FEATURED BAND FOR 2020
SEA LEVEL featuring Lance Goldman (Fri 04 Dec 2020)
Sea Level as a band has been around since 2007. Consisting primarily of founder members Lance Goldman on guitar and vocals, Grant Halliday on drums and Peter Bosse on bass and vocals.
The current lineup includes Keith Fordyce, keyboards, guitar and vocals. All four members have been active in the music industry for many, many years! They have all been active in various other projects over the years but have remained in contact throughout and work together whenever they can, including opening for Wishbone Ash in 2015, five previous Blues Festival gigs and six Splashy Fen gigs.
Their repertoire consists of original songs as well as selected covers that they all enjoy playing.
THE RORKE KEMP BAND (Fri 04 Dec 2020)
Rorke is Durban raised and well respected Stellenbosch musician – (Rorke Hunter)
Rorke is no stranger to the Durban International Blues Festival and has progressed passionately in his art after being taught and mentored by the one and only local music master, Barry Thomson. Barry helped Rorke "cut his teeth" playing the blues in his teens and was given opportunities to play at the festival from a very early age!
Rorke currently works as a producer, collaborating with Durban & Cape Town artists Jaedon Daniel, Arc the Forest & Kyle Deutsch as he strives to grow from strength to strength.
BOBBY AND THE DYNAMITES (Sat 05 Dec 2020)
Durban's "faithful to the blues' band – are a tight unit made up of well-seasoned musicians and have been knocking the socks off it for the last 10 years. Favourites at Zacks with their monthly "Blues Train"(Covid slowed it down a bit), Bobby and the Dynamites are hot favourites on the blues scene and will be performing at this year's Durban International Blues Festival which takes place 4- 6 December at the Rhumbelow Theatre in Durban.
With this extraordinary combination of some of Durban's finest, the band comprises:
Ronnie McNamara – the quiet but powerful and steady presence of this man is "the king of blues bassman" they say!
Will Wallace –the "driver "at the (Blues Train) and the band's lead guitarist, Will is also the Program Director for the Durban International Blues Festival.
Grant Halliday – a "Timekeeper "of note as he beats out the rhythm on drums
Pete Wilson – This man can blow a harp which would make angels weep and with his gravelly voice, fits the blues vibe perfectly!
Tiffany Shephard – this vocalist has "fire in her feet". A powerful voice that will get you rocking with the best of them. If you want more dulcet tones- Tiffany can step up to the plate here too. Tiffany is signed with Unique Records.
Keith Fordyce – Keith is the newest member of the band but is by no means a novice!
A guitar whizzes and keyboard player to beat, Keith is well amongst the best of the best on the music circuit.
THE SMOKE TRAIN BLUES MOVEMENT(Sat 05 Dec 2020)
The Smoke Train Blues Movement is an African Blues brand comprising of blues musicians from all across the continent of Africa (from up and coming to the finest ).The vision to develop, nurture and keep the blues alive, is led by lead guitarist, composer and singer Nico Smoke Lawrence. Starting out as a solo artist in 2016 after losing his business and all his belongings in a fire in Port Shepstone KZN he and his family relocated to Johannesburg (Edenvale).
I wanted to play and write authentic blues music that reflects and captures the times we live in here in South Africa, With that being a huge success and The Smoke Train band gaining love and support in the blues community locally and abroad there was another challenge that Smoke faced, how do we grow the blues in Africa? How do we develop and nurture the blues talent as we have many musicians wanting to join the band, but we could not accommodate them all? This is how The Smoke Train Blues Movement came about, we represent Africa. We are taking our first African team of talented musicians from Democratic Republic of Congo and Madagascar, local artists from Durban, myself, and our drummer from Johannesburg.
Some remarkable progress has been made in late 2019-2020, we have been inundated with invitations from Argentina, Spain, Mexico, Columbia, Ghana, and Swaziland etc. We are looking forward to taking the Blues into Africa 2021.
Nico SMOKE Lawrence - Lead singer, lead guitarist, composer and Driver of The Smoke Train Blues Movement.
Rob Domijan – Drummer on the Smoke Train Blues Movement, he is an accomplished artist and has been around the Blues circuit for many years.
Gracious Nkulu – Bass guitarist from DRC, been groomed by the Train since he was 19 years old. A bass guitarist of note, super talented.
Iffa Raz, 28 - pianist from Madagascar, talented artist who loves the Blues, he is also a Commercial Pilot.
Ashvin Laljit - 55, he has a BA. Degree through UNISA majors in Music and Sociology, is a talented and experienced artist. Ashvin hails from Durban, KZN. Ashvin is passionate about teaching youngsters music.
Featuring Black Jack, my friend, mentor and blues brother. A knowledgeable man, with lots of wisdom to impart. He is one of the main pinnacles of the movement, who operates solely behind the scenes.
BARRY THOMSON & THE REALS (Sun 06 Dec 2020)
Barry Thomson: Guitar / Vocals
Dawn Selby: Keyboards / Vocals
Mali Sewell: Drums / Vocals
Jason Andrew: Bass Guitar / Vocals
Trevor Donjeany Bass Guitar will be standing in for Jason for this performance.
The band was formed in October 2011 and has performed country-wide for various productions, including high profile corporate and private events and theatrical shows. In 2007, Dawn, Barry and Mali were part of the support band for the official opening of the new ICC Arena where George Benson & Al Jurreau were included in the line-up. For 8 years, the band featured in Heritage Theatre productions and tribute shows including: 'Taste Of Thomson', 'Brothers In Arms', 'Rock Legends', 'The Jazz Singer', 'California Dreaming', 'Bad Moon Rising', 'King and Queen', 'Stratpack', 'More Than A Feeling', an Eagles Tribute show 'Takin' It Easy', a Rodriguez tribute 'Cold Fact' and 'Five Decades of Rock'.
In the 2011, 2012 and 2013 Durban International Blues Festivals, The Reals performed at the Catalina Theatre. In the 2014 Blues Festival, they backed the internationally acclaimed musician Raphael Imbert and in the 2015 Blues Festival, were the backing band for the 'B. B. King Tribute' at the Elizabeth Sneddon Theatre. In 2016 Blues Festival, The Reals performed at The Plant as the backing band for the 'Muddy Waters Tribute' which featured Jimmy D. Lane and top local performers. In 2019, The Reals backed the international artiste Pat Savage.
The Reals have performed at various venues, including 'Live', Music in the Meadow and the International Convention Centres in Durban and Cape Town. They completed successful seasons of tribute shows including 'The Reals Festival', 'Woodstock', 'Laurel Canyon', 'Rock Guitar Legends', 'Fleetwood Mac' and 'Dire Straits' at the Rhumbelow Theatres in Durban, Kloof, Durban North and Pietermaritzburg. They have released their second CD 'Tribute Volume One' which features fourteen live recorded tracks from their most popular tribute shows.
'The Reals' on Facebook: https://www.facebook.com/TheRealsPage
'The Reals' on YouTube: https://www.youtube.com/channel/UC6bar2t0VnS3Ml7WS_cwMRA
TREVOR DONJEANY
Stepping up to the plate for the show at the Durban International Blues Festival this year, is Trevor Donjeany who will perform in place of JASON ANDREW who will not be in town at the time)
Trevor Donjeany is a world class musician with 36 years' experience in the music industry.
Beginning in 1980 , Donjeany worked for the Holiday inn circuit in Lesotho for a few years, then moved to the Sun International circuit. He worked with resident hotel bands and backed numerous international and local cabaret stars.
Donjeany moved to Jhb in the early 90 s, and was involved in many television and recording projects as well as with numerous jazz and pop artists and theatre shows, and is the bassist with The Festival orchestra under the baton of Richard Cock.
For the last 10 years , Donjeany has been the bassist with icon , Johnny Clegg and tours the world extensively .
Countries worked in include Lesotho, Swaziland, Botswana,Kenya, Mozambique, Morroco,Ethiopia, Egypt, The United Arab Emirates, Germany, Switzerland, France, South America, The USA, Canada, Australia, New Zealand and Reunion.
Donjeany writes and records his own music and presently has a project Band which covers a wide genre of music. He also has a solo performance project that covers all types of events , as well as Bass clinics which are highly motivational in schools and universities. He has also taught at Kearsney College, Durban High School and at Westville and Natal Universities.
SOMETHING ABOUT OUR GUESTS - AV SLOTS FROM OUR INTERNATIONALS
CHARLIE LOVE
Charlie was born and raised in Chicago, and his mom listened to the blues all the time- so his passion began at a very early age: "I always had a feel for it," says Charlie and with his Dad playing the blues harp- at aged seven, it was clear which way Charlie was heading as he would sing along!
Playing the guitar was a little more stressful for Charlie at first but (Charlie's) sister had a musician boyfriend named Jimmy Radcliff . One day he caught Charlie playing his guitar .Charlie recalls that "he was very angry at first but then asked if I wanted to learn and he let me keep playing and I did so for months until there was only one string left !"
Charlie's first break came through Chicago bandleader/guitarist Buddy Scott, mentor to many blues artists on the scene today.
When fellow blues artists Liz Mandeville interviewed Charlie- this is how she explains it:
"Charlie was walking down 43rd Street with the guitar in a case on his back. Buddy was leaning on a car out on the street. Buddy Scott said "Hey is that a guitar?" At First, Charlie was hesitant to engage with the stranger, as people can be unpredictable and he didn't know if Buddy might try to take the guitar or something. But Buddy was persistent, he insisted Charlie show him what he could play. So finally Charlie got out his guitar and started playing a Tyrone Davis song. But when it came to the chord change Buddy said "No that aint right." And he showed Charlie how the song was played. Then Buddy invited Charlie to come out and sit in with his band and that led to his first gig. "It was 59th and Halsted," Charlie said, "snow all over the place, but I was so happy! I got to play and I got paid $10!"
Charlie then had a longstanding gig with Buddy Scott's band and played every Fri and Sat night at Lee's Unleaded Blues, 7401 Chicago Avenue – for almost 6 years!
Liz goes on to describe Charlie's story:
"Finally, one night Charlie met bandleader, Casey Jones, on a show at Roberts 500 Club. Charlie was singing one of Casey's songs, "Please Mr. Blues." Casey heard him singing and told him "That's my song, you can't sing that!" Charlie said "I'm sorry I didn't know that was your tune, who are you?" Casey said "I'm Casey Jones and that's my song!" Charlie has such a great attitude and laid back demeanour that pretty soon Charlie was invited to jam on Casey's weekly gig at the Kingston Mines.
The people at the Mines responded wildly to Charlie's energetic show, "everybody was up on the dance floor, it was a mess!" So that led to Charlie being a regular guest and soon he'd been hired to play every Monday night. It happened the night Sam Goode went out during the break and didn't come back. "Who's going to play his show?" everyone was asking, "I'm not playing his show and my show!" was Casey's answer. "Well, I'll play it!" Charlie said and he proceeded to light that club on fire! Doc Pellegrino, who owns the Mines, recognized a winning talent and soon had hired Charlie to play with Casey's band full time.
Charlie played with Casey Jones Band for a long time, but he wanted to do his own music, have his own show. He'd gotten tired of being a side man and one night he was talking to the drummer, Vernon Rogers, about quitting the band to strike out on his own. "Don't quit!" advised Vernon, "Talk is that they're gonna offer you your own night, so don't quit!" Charlie took the drummer's advice and that very next Monday night Doc asked Charlie to bring his own band in the following Sunday and be the opener. Pretty soon he was there five nights a week. "
Charlie has one CD to his credit, So Happy I Could Cry, available at his shows. He is also a featured artist on two tracks for the compilation CD on the Severn Label titled Chicago Blues Harmonica Project: More Rare Gems. The album features the late Little Arthur Duncan, Harmonica Hinds, Reginald Cooper, Big D and other Chicago blues harp players. A photo of Charlie blowing harp graces the CD cover.
Charlie has also performed at the Durban International Blues Festival in Durban South Africa and has remained a good friend to not only the organizers- but to Durban Blues Fans- and will " perform " in the 2020 festival again .
YAMIL JACOBO TRIO
Yamil Jacobo was born in 1967 in Villaguay, Entre Ríos, Argentina. At the age of seven, he started his academic training by attending piano lessons which some time afterwards he set aside so as to devote to the guitar instead. He was seduced by the blues-rock genre which eventually led him into forming various bands as a teenager. Later on, on a more professional basis, he formed the following music groups:
Sopanegra: A trio formed by Yamil in 2004 including Rubén Gatti, at the battery, and Juan Mire on the bass. This group participated at Cosquín Rock in 2009. From that moment onwards, Sopanegra started to build a reputation while playing at different cities of Argentina and even sharing the stage with musicians such as Deacon Jones, an organ player with a strong track record including Santana, Freddie King, Eric Clapton, and the Rolling Stones, among others ; Ricardo Tapia from La Mississippi ; Luis Robinson from Pappo Blues. This group even signed a contract with Universal Records. Sopanegra left as part of its work WU WEI BLUES, a record that was produced on an independent basis.
El Malpaso: Coming into existence in mid-2016, it was integrated by Maximiliano Cervetti on keyboards, Joa Muriel, bass, Luis Meinberg, battery, and Yamil Jacobo, guitar and voice. Although its musical origins may be traced back to different roots, the common denominator linking its various stages can be found in Afro-American music which became known by 1800 as Blues.
Curandero - El Malpaso at Faber, in Rafaela.
Yamil Jacobo Trío shares a similar approach as that of its predecessor while gaining on versatility as invited musicians are incorporated as well as different instruments elaborated by Yamil through his brand Luthería Sustentable. Some of these sustainable creations include the 4 string Cigar Box, extensively used in Blues, and the 8 string chordophone built with squashes.
Yamil performed with his band in Durban at the Durban International Blues Festival in 2019
DONNA HERLUA
Donna Herula is a Chicago-born singer and acoustic blues slide guitarist that has a passion for playing traditional Delta and Country Blues in addition to original songs. Her sound combines her love for music of the Deep South with her love of blues guitar improvisation.
In 2016, Donna was inducted into the Chicago Blues Hall of Fame. The same year, Acoustic Guitar Magazine named her one of the "top 10 up and coming resonator guitar players" and featured her in an article, "Down and Dirty: 10 contemporary resonator players talk about their love for that nasty sound."
Donna is a guitar teacher at the Old Town School of Folk Music in Chicago where she teaches on-line group and individual guitar and slide guitar lessons. Donna has taught at guitar camps, blues and folk festivals, and to online students throughout the world.
Donna is a regular performer at Buddy Guy's Legends in Chicago and has opened for Buddy Guy multiple times. She has also performed at the Chicago Blues Festival, King Biscuit Blues Fest in Helena, Arkansas, the Juke Joint Fest in Clarksdale, Mississippi, and in 2014, was honored to perform at the Durban International Blues Festival in South Africa.
For more information, visit: donnaherula.com.
FIONA BOYES
Fiona Boyes plays deep Blues, influenced by a myriad of traditional regional styles. She has carved an international reputation as a blues guitarist, bandleader, vocalist and songwriter. International reviewers have described her as a 'musical anomaly' and 'Bonnie Raitt's evil twin!
A distinctive finger picking and slide guitarist, Fiona's soulful, authoritative system has earned her unprecedented recognition overseas as an Australian artist. Winner of The International Blues Challenge in Memphis, she has toured widely, performing at acoustic, guitar jazz and blues festivals (Including the Durban International Blues Festival in Durban South Africa – twice), clubs and cultural centres in more than 20 countries.
Fiona's most recent studio offering "Voodoo in the Shadows" (2018) extends her exploration of the musical style of Mississippi and Louisiana, featuring swampy electric guitar along with a collection of unique cigar – box guitars and a rare National Reso- Lectic baritone. It follows other award winning albums such as the audiophile acoustic album "Professin the Blues" (2016) and "Box and Dice" (2015) which was written around her growing collection of cigar- box guitars.
Fiona was nominated for the Koko TAYLOR Award (Best Traditional Female Artist) at the 2019 USA Blues Music Awards in Memphis with her 8th BMA nomination over various categories since 2007.
Fiona is the only Australian ever to be nominated for these awards- which are considered to the be Grammies of the Blues.
LIZ MANDEVILLE
If California could hook up to Liz, there wouldn't be any power shortage!" - Richard Benson, Blues On Stage
Liz Mandeville was born into a musical family in Wisconsin, an arts filled environment.
"Da played the guitar and sang folk songs while a student at the Art Institute of Chicago: he taught me to paint and sing!" says Manderville "Mom was an actress and she saw to it I had a proper education in the theatre arts as well- all this has stood me well as I went on to be a blues singer."
Musicians were frequent in the Manderville home and encouraged to write songs and poetry based often on long family holiday experiences where Liz was exposed to blue grass, blues and traditional country and folk music.
Her first gigs were in coffee houses around her home town in the 90's and early 2000's often the songs Dad had taught her but also with strong influences from the likes of James Brown ,Muddy Waters and Lightning' Hopkins. Then came playing in Chicago, New York City and the west (California) as well as many towns in-between –mostly traveling across the U.S.A. in the late 80's and in the 90's –was part of a band called The Blue Points.
In 1994, she met Chicago bassist Aron Burton and subsequently performed with him at the 1994 Chicago Blues Festival. She recorded two tracks with him on his 1996 album, Aron Burton Live, and that led to her being signed to Michael Frank's Earwig Music Company
Between 1994 and 1999, Mandeville was a frequent sight on stage at the Blue Chicago nightclubs, where she had the chance to work with a short who's-who of Chicago-area musicians, including Willie Kent, Maurice John Vaughn and Michael Coleman. She recorded her first two albums with musicians from that scene, including Burton on bass, Allan Batts, keyboards, and drummer Dave Jefferson.
Her albums, showcasing her spry, sometimes humorous original songs, all for the Chicago-based Earwig Music label, include 2008's Red Top, Back in Love Again (2002), Ready to Cheat (1999) and Look at Me (1996). She has performed on a slew of other albums by Chicago-based blues performers, including Johnny Drummer's 2000 release, Unleaded Blues, Aron Burton's Live from Buddy Guys Legends and a compilation of Chicago –area woman blues singers RED HOT MAMAS for the Blue Chicago Label.