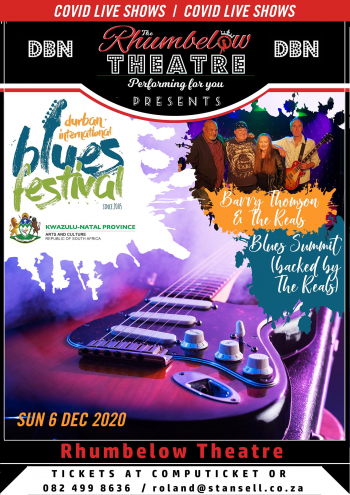 DIBF - THE BLUES SUMMIT
6th Dec 2020 - 6th Dec 2020
Starring
BARRY THOMSON & THE REALS BLUES SUMMIT – backed by The Reals
CompuTicket
Facebook Page
About The Show
RHUMBELOW THEATRE
42 Cunningham Rd off Bartle Road, Durban
ALL TICKETS MUST BE PRE-BOOKED
NO WALKINS ALLOWED
DURBAN INTERNATIONAL BLUES FESTIVAL
Sponsored by
The Department of Arts & Culture
Kwa-Zulu Natal Province
Kingston Live has been part of the Durban International Blues Festival team from the birth of the event and are proudly providers of the backline for this year's festival .
The Blues Festival will be featuring 2 bands each night interspersed with AV sent from our International Artists who could not join us this year.
SUNDAY 06 DEC 2020 Show starts 13.45 – DBN
THE BLUES SUMMIT
BARRY THOMSON & THE REALS
BLUES SUMMIT – backed by The Reals
(Venue opens 90 minutes before show for snacks/drinks)
THE SHOW MUST GO ON!
2020 has certainly been a challenge for most of us, no less the entertainment and eventing industry. Covid 19 shook us from every angle and the struggle to "keep things afloat" is no stranger!
The Durban International Blues Festival 2020 team certainly have had to deal with these industry issues- but the warriors that they are, along with their ever loyal (main) sponsors, The Department of Arts and Culture believe: NEVER SAY DIE !
New strategies, new plans and a new way of doing things have been the inspiration behind this year's event which will take place 4 – 6 December and there is no better place to hold the event- with all Covid rules in governance- than at Roland Stansell' s Rhumbelow Theatre in Umbilo (Durban KZN).
Program Director, Will Wallace has been able to stretch the budget allocated from the Department of Arts and Culture and the line-up includes local bands Rorke Kemp, Sea Level (featuring Lance Goldberg), Bobby and the Dynamites, and Smoke Train. The Reals are the backing band for The Blues Summit on the Sunday and who could go wrong with them in the mix.
The performances are live – but with a twist! Local artists will perform live but since our international Blues friends couldn't come to Durban in person due to Covid restrictions, they have willingly agreed to participate in a video production to be screened at the show. The line- up is formidable with some of our past performers supporting us wholeheartedly: Liz Mandeville (USA), Toronzo Cannon (USA), Fiona Boyes (Aus), Pat Savage (Canada), Charlie Love (USA), Donna Herula (USA), Yamil Jacobo (Argentina).
There will be a Merch Table so bring a few extra scheckel's for this too. Concorde Printers have a few Blues tee shirts and artists will have CD's at the table.
Keep watching these pages and also visit FRIENDS OF THE DURBAN INTERNATIONAL BLUES FESTIVAL and DURBAN INTERNATIONAL BLUES FESTIVAL on Facebook for early information or go to www.durbanbluesfestival.co.za.
Whilst we are not changing our 2020 pricing, we would ask that if you are able to please assist us and the performers by donating a higher ticket price.
R 160-00 a ticket
(R 140-00 Pensioners)
(R 140-00 Students with a valid student card)
Loyalty Card Holders (R 130-00) ALL SHOWS
Bring food picnic baskets or buy from Kevin.
ALL SEATING WILL BE AT SEPARATE TABLES AND WE WILL OBVIOUSLY BE SEATING CO-HABITING COUPLES AND/OR FAMILY MEMBERS.
Limited secure parking available
Booking is essential.
Full Bar Available
(no alcohol may be brought on to the premises)
Cell 0824998636
BOOKINGS ON EMAIL roland@stansell.co.za or COMPUTICKET
http://events.durbantheatre.com/
For showbiz news, reviews and interviews don't miss Billy Suter's Website at https://sosuterbill.com/
PLEASE NOTE THE FOLLOWING
COVID-19 PROTOCOLS FOR PATRONS
HEALTH AND SAFETY PROTOCOLS FOR PATRONS

Patrons need to wear a face and nose covering at all times in the venue except when eating or drinking.
All patrons will have their temperatures taken on arrival at the venue.
All patrons will be required to complete documents relating to Travel and Covid-19 contacts.
All patrons will be required to complete an indemnity form.
All patrons will be required to complete an attendance register with all appropriate information including confirmation of co-habiting when couples attend.
All patrons will be hand sanitized on arrival and at interval.
All patrons will be requested to bring hand sanitizer with them to the venue.
Any patron who does not meet the required Health & Safety protocols and temperature check will be refused entry.
Patrons above the age of 60 or a person with co-morbidities will be discouraged from attending performances. (GOVT GUIDELINES – please be guided by your own health status)
SHORT SYNOPSIS ABOUT EACH FEATURED BAND FOR 2020
BARRY THOMSON & THE REALS (Sun 06 Dec 2020)
Barry Thomson: Guitar / Vocals
Dawn Selby: Keyboards / Vocals
Mali Sewell: Drums / Vocals
Jason Andrew: Bass Guitar / Vocals
Trevor Donjeany Bass Guitar will be standing in for Jason for this performance.
The band was formed in October 2011 and has performed country-wide for various productions, including high profile corporate and private events and theatrical shows. In 2007, Dawn, Barry and Mali were part of the support band for the official opening of the new ICC Arena where George Benson & Al Jurreau were included in the line-up. For 8 years, the band featured in Heritage Theatre productions and tribute shows including: 'Taste Of Thomson', 'Brothers In Arms', 'Rock Legends', 'The Jazz Singer', 'California Dreaming', 'Bad Moon Rising', 'King and Queen', 'Stratpack', 'More Than A Feeling', an Eagles Tribute show 'Takin' It Easy', a Rodriguez tribute 'Cold Fact' and 'Five Decades of Rock'.
In the 2011, 2012 and 2013 Durban International Blues Festivals, The Reals performed at the Catalina Theatre. In the 2014 Blues Festival, they backed the internationally acclaimed musician Raphael Imbert and in the 2015 Blues Festival, were the backing band for the 'B. B. King Tribute' at the Elizabeth Sneddon Theatre. In 2016 Blues Festival, The Reals performed at The Plant as the backing band for the 'Muddy Waters Tribute' which featured Jimmy D. Lane and top local performers. In 2019, The Reals backed the international artiste Pat Savage.
The Reals have performed at various venues, including 'Live', Music in the Meadow and the International Convention Centres in Durban and Cape Town. They completed successful seasons of tribute shows including 'The Reals Festival', 'Woodstock', 'Laurel Canyon', 'Rock Guitar Legends', 'Fleetwood Mac' and 'Dire Straits' at the Rhumbelow Theatres in Durban, Kloof, Durban North and Pietermaritzburg. They have released their second CD 'Tribute Volume One' which features fourteen live recorded tracks from their most popular tribute shows.
'The Reals' on Facebook: https://www.facebook.com/TheRealsPage
'The Reals' on YouTube: https://www.youtube.com/channel/UC6bar2t0VnS3Ml7WS_cwMRA
TREVOR DONJEANY
Stepping up to the plate for the show at the Durban International Blues Festival this year, is Trevor Donjeany who will perform in place of JASON ANDREW who will not be in town at the time)
Trevor Donjeany is a world class musician with 36 years' experience in the music industry.
Beginning in 1980 , Donjeany worked for the Holiday inn circuit in Lesotho for a few years, then moved to the Sun International circuit. He worked with resident hotel bands and backed numerous international and local cabaret stars.
Donjeany moved to Jhb in the early 90 s, and was involved in many television and recording projects as well as with numerous jazz and pop artists and theatre shows, and is the bassist with The Festival orchestra under the baton of Richard Cock.
For the last 10 years , Donjeany has been the bassist with icon , Johnny Clegg and tours the world extensively .
Countries worked in include Lesotho, Swaziland, Botswana,Kenya, Mozambique, Morroco,Ethiopia, Egypt, The United Arab Emirates, Germany, Switzerland, France, South America, The USA, Canada, Australia, New Zealand and Reunion.
Donjeany writes and records his own music and presently has a project Band which covers a wide genre of music. He also has a solo performance project that covers all types of events , as well as Bass clinics which are highly motivational in schools and universities. He has also taught at Kearsney College, Durban High School and at Westville and Natal Universities.