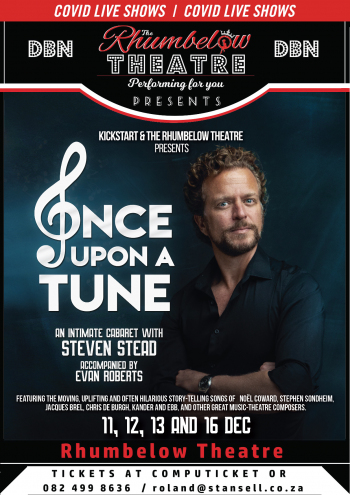 ONCE UPON A TUNE
11th Dec 2020 - 16th Dec 2020
Starring
Steven Stead with Evan Roberts on Piano
CompuTicket
Facebook Page
About The Show
KICKSTART
& RHUMBELOW THEATRE
42 Cunningham Rd off Bartle Road, Durban
Proudly presents
ONCE UPON A TUNE
Steven Stead with Evan Roberts on Piano
FRIDAY 11 DEC 2020 Show starts 19.30 – DBN
SATURDAY 12 DEC 2020 Show starts 19.30 – DBN
SUNDAY 13 DEC 2020 Show starts 14.00 – DBN
WEDNESDAY 16 DEC 2020 Show starts 18.00 – DBN
(Venue opens 90 minutes before show for snacks/drinks)
KickstArt and the Rhumbelow Theatre proudly present the first one-man show featuring well-known actor and director, Steven Stead.
"I have wanted to do an old-fashioned, intimate one-man cabaret for some time now," says Stead, "But I have always been too busy directing big musicals and pantomimes to focus on anything so complex and fragile. Now that our theatre world has been tragically plunged into a coma thanks to Covid-19, I can ironically realise a dream of mine."
"Acting is story-telling. Making theatre is story-telling. And since the Greek bards sang of the gods and heroes of legend, and the Medieval minstrals sang of the romances and wars of knights and ladies, people have thrilled to stories told by a singer-actor through music," says Stead.
"I vividly remember going to The Cellar as a youngster, and experiencing the magic of real cabaret, as opposed to music revue, with artists like Danielle Pascale, Judy Page and Sam Marais, and I want to explore this very powerful, very rewarding style of theatre myself. I feel that I am the right age to do this now, and with the brilliant Evan Roberts at my side, I feel brave enough to share my life-experience with an audience."
Accompanied on the piano by ace musical director and long-time collaborator, Evan Roberts, Stead will be singing a series of songs that tell stories and are inherently theatrical. They range from witty and wicked comedy songs by Noël Coward, to powerful folk songs by Jacques Brel, to thought-provoking songs from musical theatre composers like Stephen Sondheim, and Kander and Ebb. He will also be singing material from shows that he has appeared in, or been associated with, that also take the form of story-telling songs.
Whilst we are not changing our 2020 pricing, we would ask that if you are able to please assist us and the performers by donating a higher ticket price.
R 160-00 a ticket
(R 140-00 Pensioners)
(R 140-00 Students with a valid student card)
Loyalty Card Holders (R 130-00) ALL SHOWS
Bring food picnic baskets or buy from Kevin.
ALL SEATING WILL BE AT SEPARATE TABLES AND WE WILL OBVIOUSLY BE SEATING CO-HABITING COUPLES AND/OR FAMILY MEMBERS.
Limited secure parking available
Booking is essential.
Bar Available (no alcohol may be brought on to the premises)
Cell 0824998636
BOOKINGS ON EMAIL PLEASE : roland@stansell.co.za
Or COMPUTICKET http://events.durbantheatre.com/
For showbiz news, reviews and interviews don't miss Billy Suter's Website at https://sosuterbill.com/
ALL TICKETS MUST BE PRE-BOOKED
NO WALKINS ALLOWED
PLEASE NOTE THE FOLLOWING
COVID-19 PROTOCOLS FOR PATRONS
HEALTH AND SAFETY PROTOCOLS FOR PATRONS

Patrons need to wear a face and nose covering at all times in the venue except when eating or drinking.
All patrons will have their temperatures taken on arrival at the venue.
All patrons will be required to complete documents relating to Travel and Covid-19 contacts.
All patrons will be required to complete an indemnity form.
All patrons will be required to complete an attendance register with all appropriate information including confirmation of co-habiting when couples attend.
All patrons will be hand sanitized on arrival and at interval.
All patrons will be requested to bring hand sanitizer with them to the venue.
Any patron who does not meet the required Health & Safety protocols and temperature check will be refused entry.
Patrons above the age of 60 or a person with co-morbidities will be discouraged from attending performances. (GOVT GUIDELINES – please be guided by your own health status)