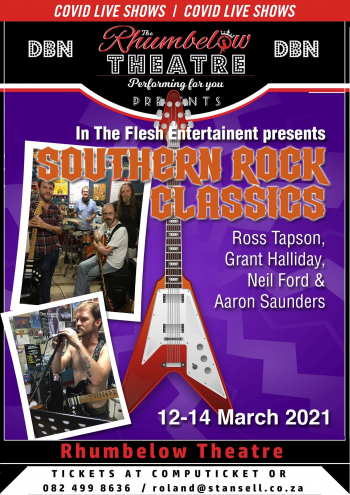 SOUTHERN ROCK CLASSICS
12th Mar 2021 - 14th Mar 2021
Starring
Ross Tapson, Grant Halliday, Neil Ford & Aaron Saunders
CompuTicket
Facebook Page
About The Show
RHUMBELOW THEATRE
Alan Wilson Shellhole PMB, DURBAN & NORTHLANDS
&
In The Flesh Entertainent
Presents
SOUTHERN ROCK CLASSICS
Ross Tapson, Grant Halliday, Neil Ford & Aaron Saunders
RHUMBELOW PMB SUNDAY 2PM 28 FEB 2021
FRIDAY 12 MARCH 2021 Show starts 19.00 – DBN
SATURDAY 13 MARCH 2021 Show starts 19.00 – DBN
SUNDAY 14 MARCH 2021 Show starts 14.00 – DBN
(Venue opens 90 minutes before show for snacks/drinks)
RHUMBELOW NORTHLANDS 7PM SAT 20 MARCH 2021
From the guys that brought you PINK FLOYD last year.
KZN musicians In The Flesh are staging a tribute show celebrating the classic rock of the American south.
In The Flesh consist of veteran performers Grant Halliday (drums), Neil Ford (bass guitar) and Ross Tapson (guitar and vocals). For this show the rotation is joined by a talented and exciting new face, Aaron Saunders (guitar and vocals).
"Aaron is great fun to be around, and the audience loves him," says Tapson of their newest guest. "We're very happy to have him on board."
The show consists of faithful, energetic renditions of much-loved songs by southern greats such as CCR, Grand Funk Railroad, The Black Crowes, John Cougar Mellencamp, Tom Petty, ZZ Top, The Allman Brothers, Lynyrd Skynyrd, Joe Walsh / The James Gang, Stevie Ray Vaughan – to name a few.
"We've included some things that may pleasantly surprise people too," according to Ford.
Top Talent at the Rhumbelow Theatre.
Whilst we are not changing our 2020 pricing, we would ask that if you are able to please assist us and the performers By donating a higher ticket price.
R 160-00 a ticket
NO OTHER DISCOUNTS FOR THIS SHOW
Bring food picnic baskets or buy food from Kevin.
ALL SEATING WILL BE AT SEPARATE TABLES AND WE WILL OBVIOUSLY BE SEATING CO-HABITING COUPLES AND/OR FAMILY MEMBERS TOGETHER.
Limited secure parking available
Booking is essential.
WITH THE CURRENT COVID LEVELS WE WILL BE LIMITING CAPACITY TO 50 PEOPLE MAX
FULL BAR AVAILABLE
(no alcohol may be brought on to the premises)
Cell 0824998636
BOOKINGS ON EMAIL PLEASE : roland@stansell.co.za
or COMPUTICKET http://events.durbantheatre.com/
For showbiz news, reviews and interviews don't miss Billy Suter's Website at https://sosuterbill.com/
PLEASE NOTE THE FOLLOWING COVID-19 PROTOCOLS FOR PATRONS
HEALTH AND SAFETY PROTOCOLS FOR PATRONS

Patrons need to wear a face and nose covering at all times in the venue except when eating or drinking.
All patrons will have their temperatures taken on arrival at the venue.
All patrons will be required to complete documents relating to Travel and Covid-19 contacts.
All patrons will be required to complete an indemnity form.
All patrons will be required to complete an attendance register with all appropriate information including confirmation of co-habiting when couples attend.
All patrons will be hand sanitized on arrival and at interval.
All patrons will be requested to bring hand sanitizer with them to the venue.
Any patron who does not meet the required Health & Safety protocols and temperature check will be refused entry.
Patrons above the age of 60 or a person with co-morbidities will be discouraged from attending performances. (GOVT GUIDELINES – please be guided by your own health status)