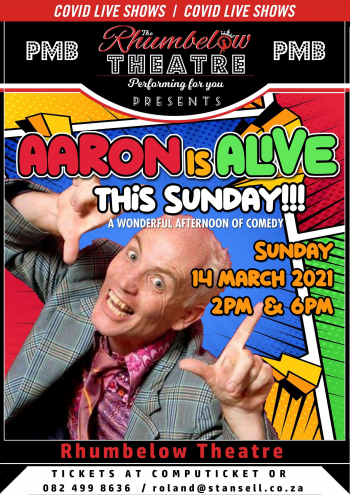 AARON IS ALIVE this Sunday !!!!
14th Mar 2021 - 14th Mar 2021
Starring
Aaron McIlory
CompuTicket
Facebook Page
About The Show
RHUMBELOW THEATRE
Alan Wilson Shellhole PMB
AARON IS ALIVE this Sunday !!!!
Aaron McIlory
SUNDAY 14 MARCH 2021 Show starts 14.00 – PMB
SUNDAY 14 MARCH 2021 Show starts 18.00 – PMB
(Venue opens 90 minutes before show for snacks/drinks)
If you are looking for some comic relief, laugh a minute humour, then this is the LOCKDOWN COMEDY show for you. A musical, comedy mix highlighting 4 very funny and different characters brought to life on the stage for you by Mr Funny himself, Aaron McIlory.
"Aaron McIlroy is one of South Africa's most popular entertainers with a string of stage blockbusters under his belt including playing the hilarious father in all the Spud movies. While Aaron's work in the South African Theatre industry has always focused on getting his ever-growing audience base to laugh till they cry, his creative skills as a fully trained and highly experienced actor/producer extend far beyond the scope of general Stand-up comedy entertainers. Experience him in action and you'll see why." - Billy Suter
Top Talent at the Rhumbelow Theatre.
Whilst we are not changing our 2020 pricing forAaron's shows, we would ask that if you are able to please assist us and the performers by donating a higher ticket price.
R 180-00 a ticket
NO OTHER DISCOUNTS FOR THIS SHOW
Bring food picnic baskets or buy from Prego Rolls from the Moths.
ALL SEATING WILL BE AT SEPARATE TABLES AND WE WILL OBVIOUSLY BE SEATING CO-HABITING COUPLES AND/OR FAMILY MEMBERS TOGETHER.
Limited secure parking available
Booking is essential.

WITH THE CURRENT COVID LEVELS WE WILL BE LIMITING CAPACITY TO 50 PEOPLE MAX
FULL BAR AVAILABLE
(no alcohol may be brought on to the premises)
Cell 0824998636
BOOKINGS ON EMAIL PLEASE : roland@stansell.co.za
or COMPUTICKET http://events.durbantheatre.com/

For showbiz news, reviews and interviews don't miss Billy Suter's Website at https://sosuterbill.com/
PLEASE NOTE THE FOLLOWING COVID-19 PROTOCOLS FOR PATRONS
HEALTH AND SAFETY PROTOCOLS FOR PATRONS

Patrons need to wear a face and nose covering at all times in the venue except when eating or drinking.
All patrons will have their temperatures taken on arrival at the venue.
All patrons will be required to complete documents relating to Travel and Covid-19 contacts.
All patrons will be required to complete an indemnity form.
All patrons will be required to complete an attendance register with all appropriate information including confirmation of co-habiting when couples attend.
All patrons will be hand sanitized on arrival and at interval.
All patrons will be requested to bring hand sanitizer with them to the venue.
Any patron who does not meet the required Health & Safety protocols and temperature check will be refused entry.
Patrons above the age of 60 or a person with co-morbidities will be discouraged from attending performances. (GOVT GUIDELINES – please be guided by your own health status)