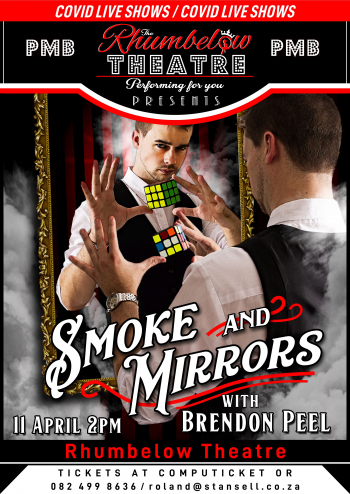 SMOKE AND MIRRORS
11th Apr 2021 - 11th Apr 2021
Starring
The master of magic and mentalism, Brendon Peel
CompuTicket
Facebook Page
YouTube
About The Show
RHUMBELOW THEATRE
Alan Wilson Shellhole PMB
SMOKE & MIRRORS
The master of magic and mentalism, Brendon Peel
RHUMBELOW NORTHLANDS SAT 7.30PM 10 APR 2021
RHUMBELOW DURBAN 02-04 APRIL 2021
SUNDAY 11 APRIL 2021 Show starts 14.00 - PMB
(Venue opens 90 minutes before show for snacks/drinks)
SMOKE AND MIRRORS
Fresh from the big stages of Britain's Got Talent and starring in the Travel Channel's NEW TV series, the master of magic and mentalism, Brendon Peel is back to astound audiences in his new LIVE show! Smoke and Mirrors is a unique magic show that includes demonstrations of mind-reading, traditional magic tricks, mind-blowing illusions, and a whole lot of laughs.
For centuries mentalists and magicians have entertained and bewildered people from all around the world – and 2021 is no different! People who perform the art of magic make you question if what you are witnessing is real or a clever illusion. Is it possible for someone to truly be able to read your thoughts or predict the future? Witness the potential possibilities in Brendon Peel's brand new show. Smoke and Mirrors filled with mind reading, psychological illusions, classic mentalism and impossible predictions of the future. Join in on the fun and get ready for Jaw-dropping psychological illusions, never before seen feats, and mind-blowing magic.
Brendon Peel's work has been witnessed by millions of people around the world and his performances have been highlighted as world-class by such publications as the LAD Bible, The New York Post, The Express UK, Fox News, and many more! Come along to witness this exciting new show in a Covid-compliant theatre. Enjoy this show like no other, and you can decide for yourself if it is real or if it's all smoke and mirrors…
"Absolutely Amazing!"- Derek Watts, Carte Blanche
"Wow!" – Simon Cowell
"One of the top entertainers in South Africa right now" – 5FM
"He kept us on the edge of our seats" – LAD Bible
Top Talent at the Rhumbelow Theatre.
Whilst we are not changing our 2020 pricing, we would ask that if you are able to please assist us and the performers by donating a higher ticket price.
R 160-00 a ticket
NO OTHER DISCOUNTS FOR THIS SHOW
Bring food picnic baskets or buy from Prego Rolls from the Moths.
ALL SEATING WILL BE AT SEPARATE TABLES AND WE WILL OBVIOUSLY BE SEATING CO-HABITING COUPLES AND/OR FAMILY MEMBERS TOGETHER.
Limited secure parking available
Booking is essential.
WITH THE CURRENT COVID LEVELS WE WILL BE LIMITING CAPACITY TO 50 PEOPLE MAX
FULL BAR AVAILABLE
(no alcohol may be brought on to the premises)
Cell 0824998636
BOOKINGS ON EMAIL PLEASE : roland@stansell.co.za
or COMPUTICKET http://events.durbantheatre.com/
For showbiz news, reviews and interviews don't miss Billy Suter's Website at https://sosuterbill.com/
PLEASE NOTE THE FOLLOWING COVID-19 PROTOCOLS FOR PATRONS
HEALTH AND SAFETY PROTOCOLS FOR PATRONS
Patrons need to wear a face and nose covering at all times in the venue except when eating or drinking.
All patrons will have their temperatures taken on arrival at the venue.
All patrons will be required to complete documents relating to Travel and Covid-19 contacts.
All patrons will be required to complete an indemnity form.
All patrons will be required to complete an attendance register with all appropriate information including confirmation of co-habiting when couples attend.
All patrons will be hand sanitized on arrival and at interval.
All patrons will be requested to bring hand sanitizer with them to the venue.
Any patron who does not meet the required Health & Safety protocols and temperature check will be refused entry.
Patrons above the age of 60 or a person with co-morbidities will be discouraged from attending performances. (GOVT GUIDELINES – please be guided by your own health status)