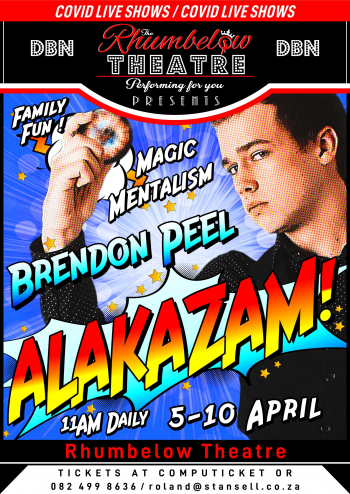 ALAKAZAM - April Holidays kids show
5th Apr 2021 - 10th Apr 2021
Starring
Fun Magical show with Brendon Peel
CompuTicket
Facebook Page
About The Show
RHUMBELOW THEATRE
UMBILO, DURBAN
KIDS APRIL HOLIDAY SHOW
ALAKAZAM
Fun Magical show with Brendon Peel
11.00 MON 05 APRIL 2021
11.00 TUE 06 APRIL 2021
11.00 WED 07 APRIL 2021
11.00 THU 08 APRIL 2021
11.00 FRI 09 APRIL 2021
11.00 SAT 10 APRIL 2021
THIS APRIL catch Brendon Peel's action packed and highly successful kids' magic show, ALAKAZAM! – happening live in Durban.
This mind-blowing show is visual, engaging, entertaining, and even educational. Watch as South Africa's top trickster makes things vanish and reappear right before your very eyes. He performs magic with practically any object he can find, turning these generally mundane objects into something mystical and magical. If you have a sense of wonder or adventure, then this will be the perfect show for you.
The perfect holiday delight for children of all ages, 4 to 400!!

Show Running time: +- 55 minutes.
Snacks and juices will be on sale.
Whilst we are not changing our 2020 pricing, we would ask that if you are able to please assist us and the performers by donating a higher ticket price.
R 75-00 a ticket Book at COMPUTICKET or email Roland
Cell 0824998636 Email : roland@stansell.co.za events.durbantheatre.com
ALL SEATING WILL BE AT SEPARATE SPACES AND WE WILL OBVIOUSLY BE SEATING CO-HABITING COUPLES AND/OR FAMILY MEMBERS TOGETHER.
For showbiz news, reviews and interviews don't miss Billy Suter's Website at https://sosuterbill.com/
PLEASE NOTE THE FOLLOWING COVID-19 PROTOCOLS FOR PATRONS
HEALTH AND SAFETY PROTOCOLS FOR PATRONS
Patrons need to wear a face and nose covering at all times in the venue except when eating or drinking.
All patrons will have their temperatures taken on arrival at the venue.
All patrons will be required to complete documents relating to Travel and Covid-19 contacts.
All patrons will be required to complete an indemnity form covering themselves and their children.
All patrons will be required to complete an attendance register with all appropriate information including confirmation of co-habiting when couples/families attend.
All patrons will be hand sanitized on arrival and at interval.
All patrons will be requested to bring hand sanitizer with them to the venue.
Any patron who does not meet the required Health & Safety protocols and temperature check will be refused entry.
Patrons above the age of 60 or a person with co-morbidities will be discouraged from attending performances. (GOVT GUIDELINES – please be guided by your own health status)