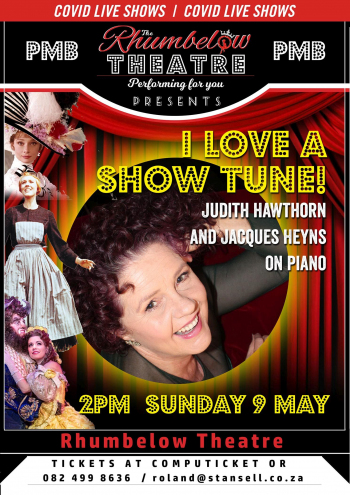 I LOVE A SHOW TUNE!
9th May 2021 - 9th May 2021
Starring
Judith Hawthorn Accompanied by Jacques Heyns on piano
CompuTicket
Facebook Page
About The Show
RHUMBELOW THEATRE
Alan Wilson Shellhole PMB
I LOVE A SHOW TUNE!
Judith Hawthorn
Accompanied by Jacques Heyns on piano
SUNDAY 09 MAY 2021 Show starts 14.00 – PMB
(Venue opens 90 minutes before show for snacks/drinks)
Singer, actress, pianist, choir director and vocal coach Judith Hawthorn reveals her passion for Musical Theatre performance in her new show "I Love A Show Tune!" celebrating her life in music with a dazzling array of classic Broadway show songs.
Accompanied by Jacques Heyns on piano, Judith transports her audience to the wonderful world of Musical Theatre with much-loved hits from The Sound of Music and Oklahoma to My Fair Lady and Beauty and the Beast, throwing in her own nostalgic salute to the great Victor Borge for good measure!
Devised and directed by Paul Spence, Judith's love for Musical Theatre songs shines through as she shares her childhood musical memories. Shot through with comedic flair, "I Love A Show Tune!" is charming, nostalgic and funny, as well as deeply heart-warming for audiences who enjoy the music of American song-writing greats such as Rodgers & Hammerstein, Lerner & Loewe, George Gershwin and Irving Berlin.
A classically trained pianist, Judith turned to Musical Theatre in her 30's and performed professionally in productions including The Sound of Music, My Fair Lady, Guys and Dolls and The Man from La Mancha. Her richly varied music teaching career in schools across KZN from Curro Hillcrest Christian Academy to The Wykeham Collegiate and Durban Girls High also includes a social upliftment choral programme for the Drakensberg Boys Choir School.
As well as her very personal selection from the golden age of Broadway musicals, expect to hear songs from other favourite shows like Little Women, Sweet Charity and Gigi as well as a virtuoso showstopper from the recent "Mary Poppins The Stage Musical".
"I Love a Show Tune!" appeals to all who love sincere musical theatre story-telling and gorgeous melodies. You'll want to singalong to every golden show tune with Judith.
Top Talent at the Rhumbelow Theatre.
Whilst we are not changing our 2020 pricing, we would ask that if you are able to please assist us and the performers by donating a higher ticket price.
R 160-00 a ticket
NO OTHER DISCOUNTS FOR THIS SHOW
Bring food picnic baskets or buy from Prego Rolls from the Moths.
ALL SEATING WILL BE AT SEPARATE TABLES AND WE WILL OBVIOUSLY BE SEATING CO-HABITING COUPLES AND/OR FAMILY MEMBERS TOGETHER.
Limited secure parking available
Booking is essential.
WITH THE CURRENT COVID LEVELS WE WILL BE LIMITING CAPACITY TO 50 PEOPLE MAX
FULL BAR AVAILABLE
(no alcohol may be brought on to the premises)
Cell 0824998636
BOOKINGS ON EMAIL PLEASE : roland@stansell.co.za
or COMPUTICKET http://events.durbantheatre.com/
For showbiz news, reviews and interviews don't miss Billy Suter's Website at https://sosuterbill.com/
PLEASE NOTE THE FOLLOWING COVID-19 PROTOCOLS FOR PATRONS
HEALTH AND SAFETY PROTOCOLS FOR PATRONS
Patrons need to wear a face and nose covering at all times in the venue except when eating or drinking.
All patrons will have their temperatures taken on arrival at the venue.
All patrons will be required to complete documents relating to Travel and Covid-19 contacts.
All patrons will be required to complete an indemnity form.
All patrons will be required to complete an attendance register with all appropriate information including confirmation of co-habiting when couples attend.
All patrons will be hand sanitized on arrival and at interval.
All patrons will be requested to bring hand sanitizer with them to the venue.
Any patron who does not meet the required Health & Safety protocols and temperature check will be refused entry.
Patrons above the age of 60 or a person with co-morbidities will be discouraged from attending performances. (GOVT GUIDELINES – please be guided by your own health status)