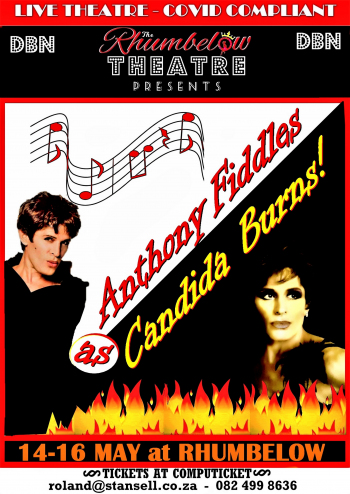 ANTHONY FIDDLES, AS CANDIDA BURNS!
14th May 2021 - 16th May 2021
Starring
Anthony Stonier
CompuTicket
About The Show
RHUMBELOW THEATRE
42 Cunningham Rd off Bartle Road, Durban
Presents

ANTHONY FIDDLES, AS CANDIDA BURNS!
Anthony Stonier
FRIDAY 14 MAY 2021 Show starts 19.30 – DBN
SATURDAY 15 MAY 2021 Show starts 19.30 – DBN
SUNDAY 16 MAY 2021 Show starts 14.00 – DBN
(Venue opens 90 minutes before show for snacks/drinks)
ANTHONY FIDDLES, AS CANDIDA BURNS!
AN ODD TITLE FOR A SHOW???!!! ABSOLUTELY! Here's what it's all about!
Anthony Stonier celebrates 25 years since he foolishly agreed to appear in Durban's (In fact South Africa's!) very first 'Adult' Pantomime! A Quarter of a Century! The first was Sinderella! In late November 1996 it opened. Scheduled to run a respectable 6 weeks, it then proceeded to sell out! Week after week! Running for almost 9 months in the (sadly) now unused Playhouse Cellar, Durban would not let it close!
Anthony played one of the Ugly Sisters, Candida Burns. He had hoped that this, his first and probably last brief foray into Panto Damehood would be forgotten shortly after the show closed. Alas, it was not to be! He has appeared in all the Adult pantomimes since*.
In this production, Anthony looks back over 25 years, not only in theatre or song, but the fashions, the fads, the foolishness, the fun found in this quarter century!
Candida feels that at Anthony's age he needs all the help he can get, so, in an act of selfless, silent benevolence, she has agreed to make an appearance, delivering what she termed Red Hot, Racy and Raucous Ribaldry!
Anthony may Fiddle Fabulously, but Candida Sizzles Spectacularly! Together they set the stage, the scenery and your sense on fire!
* The official productions.
Durban's Top Talent at the Rhumbelow Theatre.
Whilst we are not changing our 2020 pricing, we would ask that if you are able to please assist us and the performers by donating a higher ticket price.
R 160-00 a ticket
NO OTHER DISCOUNTS FOR THIS SHOW
Bring food picnic baskets or buy from Kevin.
ALL SEATING WILL BE AT SEPARATE TABLES AND WE WILL OBVIOUSLY BE SEATING CO-HABITING COUPLES AND/OR FAMILY MEMBERS TOGETHER.
Limited secure parking available
Booking is essential.

WITH THE CURRENT COVID LEVELS WE WILL BE LIMITING CAPACITY TO 50 % MAX
FULL BAR AVAILABLE
(no alcohol may be brought on to the premises)
Cell 0824998636
BOOKINGS ON EMAIL PLEASE : roland@stansell.co.za
or COMPUTICKET http://events.durbantheatre.com/
For showbiz news, reviews and interviews don't miss Billy Suter's Website at https://sosuterbill.com/
PLEASE NOTE THE FOLLOWING COVID-19 PROTOCOLS FOR PATRONS
HEALTH AND SAFETY PROTOCOLS FOR PATRONS

Patrons need to wear a face and nose covering at all times in the venue except when eating or drinking.
All patrons will have their temperatures taken on arrival at the venue.
All patrons will be required to complete documents relating to Travel and Covid-19 contacts.
All patrons will be required to complete an indemnity form.
All patrons will be required to complete an attendance register with all appropriate information including confirmation of co-habiting when couples attend.
All patrons will be hand sanitized on arrival and at interval.
All patrons will be requested to bring hand sanitizer with them to the venue.
Any patron who does not meet the required Health & Safety protocols and temperature check will be refused entry.
Patrons above the age of 60 or a person with co-morbidities will be discouraged from attending performances. (GOVT GUIDELINES – please be guided by your own health status)