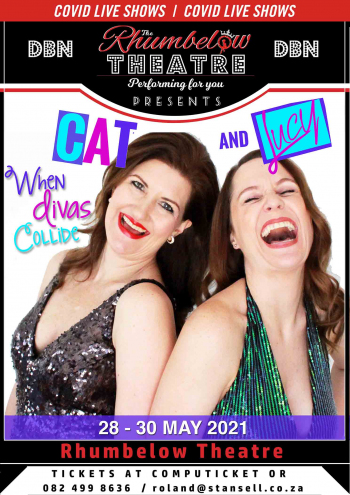 CAT & LUCY! When divas collide
28th May 2021 - 30th May 2021
Starring
Cat Simoni & Lucy Tops
CompuTicket
Facebook Page
About The Show
RHUMBELOW THEATRE
42 Cunningham Rd off Bartle Road, Durban
Presents

CAT & LUCY!
When divas collide
Cat Simoni & Lucy Tops
FRIDAY 28 MAY 2021 Show starts 19.30 – DBN
SATURDAY 29 MAY 2021 Show starts 19.30 – DBN
SUNDAY 30 MAY 2021 Show starts 14.00 – DBN
(Venue opens 90 minutes before show for snacks/drinks)
CAT & LUCY!
When divine divas collide the musical magic is mindblowing!
Cat Simoni is saying au revoir to her SA fans before her imminent return to the U.K. with her hit Kalk Bay Theatre cabaret show "Cat & Lucy! Divine Divas/Clash of the Divas" co-starring Capetonian actress and vocalist, Lucy Tops.
Showcasing their extraordinary vocal talents, "Cat & Lucy" is a virtuoso cabaret cracker of thrilling duets & soaring solos. After playing to sold-out runs at Kalk Bay Theatre, the show has recently been enjoyed in 2021 by audiences from Somerset West to Knysna and Plettenberg Bay.
Lucy Tops' voice is a powerhouse of incredible range, and she needs no introduction, having a stage pedigree that includes Kinky Boots, Funny Girl, Rocky Horror. She was nominated for a Fleur du Cap for her performance in Bar None, has performed in China and Australia, and at venues across the country such as Baxter Theatre, Artscape, Fugard, Kalk Bay and more in a variety of productions.
After ten years playing and singing at some of London's top 5-star venues and exclusive clubs, The Ritz, Carlton, Dorchester, RAC club, Cat Simoni returned home to raise her children and relaunch her career in South African. Cat has now performed her musical entertainments all over the country from the Oyster Box to Theatre on Mandela Square, Sandton, The Showroom Theatre, The Barnyard, The Rhumbelow and venues from the Garden Route to the Cape Winelands.
Cat & Lucy, Clash of the Divas, is a show with class and oodles of style. Outstanding vocals in this cabaret exuding old school glamour.
Cat's classy, cheeky performance style is very entertaining, her piano mastery evident throughout, especially in the "classical" mistakes" set.
Cat is without a doubt a fabulous foil for Lucy and their individual strengths compliment the other's brilliantly resulting in a lot of fun and intimacy together on stage.
Fantastic hits from Tim Minchin, Elton John, Tones & I, Whitney, Lionel, Queen, Bette Midler, Marianne Faithfull and surprises such as Radiohead's Creep and an inspirational country-styled, Follow Your Arrow!
Cat is delighted to be ending her 11-year-long and (often colourful) South African musical career at the Rhumbelow, in her hometown of Durban, a fitting farewell to a community which welcomed her with open arms on her return from England in 2009.
This show is really worth it, as a night out, for everyone, but especially women.
Prepare to feel empowered ladies!
Durban's Top Talent at the Rhumbelow Theatre.
Pricing on this show is to assist with the 2 airfares and we would ask that if you are able to please assist us and the performers by donating a higher ticket price.
R 180-00 a ticket
NO OTHER DISCOUNTS FOR THIS SHOW
Bring food picnic baskets or buy at the venue.
ALL SEATING WILL BE AT SEPARATE TABLES AND WE WILL OBVIOUSLY BE SEATING CO-HABITING COUPLES AND/OR FAMILY MEMBERS TOGETHER.
Limited secure parking available
Booking is essential.

WITH THE CURRENT COVID LEVELS WE WILL BE LIMITING CAPACITY TO 50 % MAX
FULL BAR AVAILABLE
(no alcohol may be brought on to the premises)
Cell 0824998636
BOOKINGS ON EMAIL PLEASE : roland@stansell.co.za
or COMPUTICKET http://events.durbantheatre.com/
For showbiz news, reviews and interviews don't miss Billy Suter's Website at https://sosuterbill.com/
PLEASE NOTE THE FOLLOWING COVID-19 PROTOCOLS FOR PATRONS
HEALTH AND SAFETY PROTOCOLS FOR PATRONS

Patrons need to wear a face and nose covering at all times in the venue except when eating or drinking.
All patrons will have their temperatures taken on arrival at the venue.
All patrons will be required to complete documents relating to Travel and Covid-19 contacts.
All patrons will be required to complete an indemnity form.
All patrons will be required to complete an attendance register with all appropriate information including confirmation of co-habiting when couples attend.
All patrons will be hand sanitized on arrival and at interval.
All patrons will be requested to bring hand sanitizer with them to the venue.
Any patron who does not meet the required Health & Safety protocols and temperature check will be refused entry.
Patrons above the age of 60 or a person with co-morbidities will be discouraged from attending performances. (GOVT GUIDELINES – please be guided by your own health status)