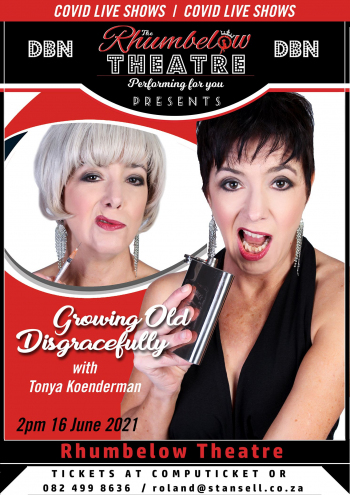 Growing Old Disgracefully
16th Jun 2021 - 16th Jun 2021
Starring
TONYA KOENDERMAN
CompuTicket
Facebook Page
About The Show
RHUMBELOW THEATRE
42 Cunningham Rd off Bartle Road, Durban
Presents

Growing Old Disgracefully
STARRING TONYA KOENDERMAN
WEDNESDAY 16 JUNE 2021 Show starts 14.00 – DBN - NOW 17.00
DUE TO ONGOING LOAD SHEDDING - THIS SHOW WILL NOW START AT 17.00
(Venue opens 90 minutes before show for snacks/drinks)
ONE SHOW ONLY
Join international cabaret artist, Tonya Koenderman in her hilarious comedy cabaret, Growing Old Disgracefully - a light-hearted, frank look at the funny side of ageing.
Do you put your car keys in the fridge? Do you walk into a room and forget why you went there in the first place? Are your arms starting to resemble bat wings? You are not alone! Come enjoy a glass of wine or six with this pint sized dynamo and enjoy a show filled with laughter and just a few tears.
All your favourite songs will be featured, with a wicked twist. The evergreen but, perhaps, dated These Are A Few Of My Favourite Things has been rebooted to embrace more age-appropriate themes. All about That Base is now an ode to make-up and other anti-aging tools, while the classic Memories, from the musical Cats, is now about……can't remember. All in all, you can look forward to a side-splitting night of entertainment and fun filled frivolity. Sorry, in advance, for the new laugh lines.
About Tonya
Tonya has been hailed by critics as "one of the hottest properties on the cabaret circuit".
Tonya started her career fresh out of drama school with Kevin Feather's cabaret, The Dooh Wah Girls in 1990, which toured the country for four years.
Other cabarets under her belt are Dooh Wah Girls, We 3, Juke is King, Jive to the Juke, and Wurlitzer, All of Woman and Shake Your Bootie, all of which have performed to packed houses throughout South Africa.
Her solo cabarets include the hits, Tonya unwrapped, Makin' Whoopee, Liza with a T, Age of Aquarius, A Night In Paris, When Jazz Was King and Born To Diva.
Tonya performed in the look-alike, sound-alike show, Stars in your Eyes, Impersonating her favourite artist, Liza Minnelli, which ran for two seasons at the Carousel .
Tonya has worked extensively for Sun International in numerous extravaganza throughout South Africa.
Tonya had the great honour of being the only local artist to star in the Sun City sensation, Beyond Belief, which ran for 16 months at the Sun City Extravaganza In which again she impersonated the legendary Liza Minnelli.
In 2007, Tonya co-directed and starred in Convent Girls with fellow performer and friend, Lisa Bobbert, which was nominated for three Durban Mercury awards: Best Production, Best Direction, and Best lead Actress (for which both Lisa and Tonya were nominated).
Most recently, Tonya has been very much in the corporate function scene, performing for the likes of Investec, Standard Bank, Nedbank, Appletizer, Gillette, S.A. Breweries, Avis, Adcock Ingram,World Travel, VWV, Absa, Discovery, Virgin Active, to name but a few.
Apart from dazzling Saudi Arabian "royalty", she has performed in countries such as Australia, Italy, Mauritius, Seychelles, and Morocco.
Durban's Top Talent at the Rhumbelow Theatre.
Whilst we are not changing our 2020 pricing, we would ask that if you are able to please assist us and the performers by donating a higher ticket price.
R 160-00 a ticket
NO OTHER DISCOUNTS FOR THIS SHOW
Bring food picnic baskets or buy at the venue.
ALL SEATING WILL BE AT SEPARATE TABLES AND WE WILL OBVIOUSLY BE SEATING CO-HABITING COUPLES AND/OR FAMILY MEMBERS TOGETHER.
Limited secure parking available
Booking is essential.

WITH THE CURRENT COVID LEVELS WE WILL BE LIMITING CAPACITY TO 50 % MAX
FULL BAR AVAILABLE
(no alcohol may be brought on to the premises)
Cell 0824998636
BOOKINGS ON EMAIL PLEASE : roland@stansell.co.za
or COMPUTICKET http://events.durbantheatre.com/
For showbiz news, reviews and interviews don't miss Billy Suter's Website at https://sosuterbill.com/
PLEASE NOTE THE FOLLOWING COVID-19 PROTOCOLS FOR PATRONS
HEALTH AND SAFETY PROTOCOLS FOR PATRONS

Patrons need to wear a face and nose covering at all times in the venue except when eating or drinking.
All patrons will have their temperatures taken on arrival at the venue.
All patrons will be required to complete documents relating to Travel and Covid-19 contacts.
All patrons will be required to complete an indemnity form.
All patrons will be required to complete an attendance register with all appropriate information including confirmation of co-habiting when couples attend.
All patrons will be hand sanitized on arrival and at interval.
All patrons will be requested to bring hand sanitizer with them to the venue.
Any patron who does not meet the required Health & Safety protocols and temperature check will be refused entry.
Patrons above the age of 60 or a person with co-morbidities will be discouraged from attending performances. (GOVT GUIDELINES – please be guided by your own health status)