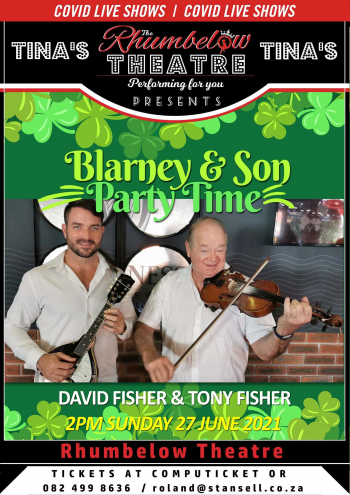 BLARNEY & SON PARTY TIME
27th Jun 2021 - 27th Jun 2021
Starring
Tony Fisher & David Fisher
CompuTicket
About The Show
RHUMBELOW THEATRE
Tina's Hotel, 14 Beryldene Rd, Kloof
BLARNEY & SON PARTY TIME
Tony Fisher & David Fisher
18 JUNE - 20 JUNE 2021 DBN
(Venue opens 90 minutes before show for snacks/drinks)
SUNDAY 27 JUNE 2021 Show starts 14.00
RHUMBELOW TINA'S

Blarney & Son is a refreshed version of the Blarney Brothers, South Africa's No.1 party band for the last 47 years.
Tony Fisher still has a lot to give and has aligned with his son David Fisher to bring back the Irish Ballads and Party Music this country has loved for so long.
Both Tony & David are multitalented musicians who love to get the party started. Their repertoire will have you dancing on tables, singing along or maybe a tear here and there.
In a short space of time the duo have made a huge impact on the Durban music circuit and continue to be the top Irish Party Band.
Join us during these COVID times for some great music and "LET YOUR HAIR DOWN"
Durban's Top Talent at the Rhumbelow Theatre.
Whilst we are not changing our 2020 pricing for shows, we would ask that if you are able to please assist us and the performers by donating a higher ticket price.
ALL SEATING WILL BE AT SEPARATE TABLES AND WE WILL OBVIOUSLY BE SEATING CO-HABITING COUPLES AND/OR FAMILY MEMBERS.
50 % MAX CAPACITY PER SHOW
Please note that for us to viably re-open The Rhumbelow Theatre at Tina's Hotel we need to make some changes in regards how we run at Tina's. We need to assist in generating a regular income for the hotel so that the theatre can continue to operate and for the hotel to also sustain itself.
TOTAL TICKET PRICE FOR TINAS – SHOW ONLY
R 160-00 each min Table Size 4
To assist in keeping the hotel afloat as well, we have agreed that a basic meal will be offered – this is optional.
There are 5 meal options available at a cost of R 100-00 each.
TOTAL TICKET PRICE FOR TINAS – INCL FOOD
R 260-00 Min Table Size 4
THE KITCHEN IS OPEN IF YOU WISH TO ARRIVE AND ORDER OFF THE MENU (BOOKINGS ARE ESSENTIAL) WE RECOMMEND THAT YOU ARRIVE ATLEAST AN HOUR AND A HALF PRIOR TO THE START OF THE SHOW.
Tickets are EFT ONLY
Secure Parking is available.
(PLEASE NOTE -no alcohol or food may be brought on to the premises)
To Book email Roland for bookings and get that money rolling in. As the hotel is on a reduced kitchen staff compliment, all show meals need to be ordered when you make your booking,
Cell 0824998636
Email: roland@stansell.co.za
Website: https://events.durbantheatre.com/
Tina's Restaurant
All tables will be served warm fresh cocktail rolls on arrival with mini butter pads if a pre-selected option is selected
Option A
Crumbed Chicken Schnitzel – A perfectly seasoned crumbed chicken fillet served with mashed potato, our veg of the day and a sauce of your choice (cheese or pepper)
Mash potato
Veg of the day
Served with Cheese or Pepper sauce
Option B
Chicken Basket – A famous classic. It consists of base basket of chips, topped with a portion of crumbed chicken strips, sticky BBQ wings and onion rings. Served with two dipping sauces either hot or not.
Chips
Crumbed Chicken Strips
Sticky BBQ Wings
Onion Rings
Two dipping sauces (option between hot or not)
Option C
R&R Basket - Something to write home about. It is a base basket of chips, topped with chunky Russians, BBQ basted (melt off the bone) ribs and onion rings. Served with two dipping sauces either hot or not.
Chips
Ribs
Russians
Onion Rings
Two dipping sauces (option between hot or not)
Option D
Snack Basket – A bit of each. It consists of base basket of chips, topped with a portion of crumbed chicken strips, topped with chunky Russians, juicy meatballs, samosas, BBQ basted (melt off the bone) ribs and onion rings. Served with two dipping sauces either hot or not.
Chips
Crumbed Chicken Strips
Russians
Meatballs
Samosas
Riblets
Onion Rings
Two dipping sauces (option between hot or not)
Option E
Vegan Lasagne – A delectable vegan delight.
Layers of Spinach Lasagne, a Soy milk Bechamel sauce and homemade Marinara.
Topped with a Vegan Mozzarella and Vegan Cheddar
ALL TICKETS MUST BE PRE-BOOKED NO WALKINS ALLOWED
PLEASE NOTE THE FOLLOWING COVID-19 PROTOCOLS FOR PATRONS
HEALTH AND SAFETY REGARDING VENUES

All staff will be issued with Face shields.
All staff will be issued with Mouth and nose coverings.
All venues & equipment will be fogged and sanitized before and after each show.
Hand sanitiser and surface cleaner is available at all our venues to ensure safety.
Where possible windows and doors will be kept open to ensure max ventilation.
All venues will have demarcations to ensure social distancing on arrival and in the venues.

HEALTH AND SAFETY PROTOCOLS FOR PATRONS

Patrons need to wear a face and nose covering at all times in the venue except when eating or drinking.
All patrons will have their temperatures taken on arrival at the venue.
All patrons will be required to complete documents relating to Travel and Covid-19 contacts.
All patrons will be required to complete an indemnity form.
All patrons will be required to complete an indemnity Form, Travel & Covid Form & an attendance register with all appropriate information including confirmation of co-habiting/family/socialising groups when attending.
All patrons will be hand sanitized on arrival.
All patrons will be requested to bring hand sanitizer with them to the venue.
Any patron who does not meet the required Health & Safety protocols and temperature check will be refused entry.
Patrons above the age of 60 or a person with co-morbidities will be discouraged from attending performances. (Government Guidelines - – please be guided by your own health status)