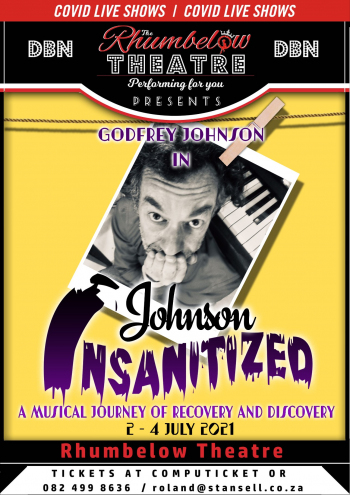 Insanitized - A Musical journey of Discovery & Recovery
2nd Jul 2021 - 4th Jul 2021
Starring
Godfrey Johnson
CompuTicket
Facebook Page
About The Show
RHUMBELOW THEATRE
42 Cunningham Rd off Bartle Road, Durban
Presents

Insanitized
A Musical journey of Discovery & Recovery
Godfrey Johnson
FRIDAY 02 JULY 2021 Show starts 19.30 – DBN
SATURDAY 03 JULY 2021 Show starts 19.30 – DBN
SUNDAY 04 JULY 2021 Show starts 14.00 – DBN
(Venue opens 90 minutes before show for snacks/drinks)
Multi award winning performer Godfrey Johnson presents an all-new decontaminated one-man extravaganza. In a celebration of 'live' music Johnson plunges into the piano with his extraordinary hands, and pulls out the songs and stories that litter his pathway to a sober world, and shed light on a way of living in the 'New Normal'.
No more buffering
Without delays and without buffers, Insanitized is all about living in and out of our lockdown reality, as we all struggle through this crazy journey. Seeing the similarities of this struggle with the struggle of his personal journey into a very different recovery, Johnson has assembled musical signposts to guide us through the numerous stages of coming to terms with a shocking reality.
Linking his own songs with those of Tom Waits, Johnson wades through the shock of Denial. Joe Jackson joins Supertramp and more of his own as he vents the Anger and interrogates the Bargaining. Who else but Dorothy Parker can see us through a nuanced Depression? Whilst the light of Rick Astley leads the charge of Acceptance.
Join Godfrey Johnson this June at the Rhumbelow Theatre, as he takes us all with him to the other side of pandemonium.
Durban's Top Talent at the Rhumbelow Theatre.
We would ask that if you are able to please assist us and the performers by donating a higher ticket price.
R 180-00 a ticket - to assist with CT airfare.
NO OTHER DISCOUNTS FOR THIS SHOW
Bring food picnic baskets or buy at the venue.
ALL SEATING WILL BE AT SEPARATE TABLES AND WE WILL OBVIOUSLY BE SEATING CO-HABITING COUPLES AND/OR FAMILY MEMBERS TOGETHER.
Limited secure parking available
Booking is essential.

WITH THE CURRENT COVID LEVELS WE WILL BE LIMITING CAPACITY TO 50 % MAX
FULL BAR AVAILABLE
(no alcohol may be brought on to the premises)
Cell 0824998636
BOOKINGS ON EMAIL PLEASE : roland@stansell.co.za
or COMPUTICKET http://events.durbantheatre.com/
For showbiz news, reviews and interviews don't miss Billy Suter's Website at https://sosuterbill.com/
PLEASE NOTE THE FOLLOWING COVID-19 PROTOCOLS FOR PATRONS
HEALTH AND SAFETY PROTOCOLS FOR PATRONS

Patrons need to wear a face and nose covering at all times in the venue except when eating or drinking.
All patrons will have their temperatures taken on arrival at the venue.
All patrons will be required to complete documents relating to Travel and Covid-19 contacts.
All patrons will be required to complete an indemnity form.
All patrons will be required to complete an attendance register with all appropriate information including confirmation of co-habiting when couples attend.
All patrons will be hand sanitized on arrival and at interval.
All patrons will be requested to bring hand sanitizer with them to the venue.
Any patron who does not meet the required Health & Safety protocols and temperature check will be refused entry.
Patrons above the age of 60 or a person with co-morbidities will be discouraged from attending performances. (GOVT GUIDELINES – please be guided by your own health status)