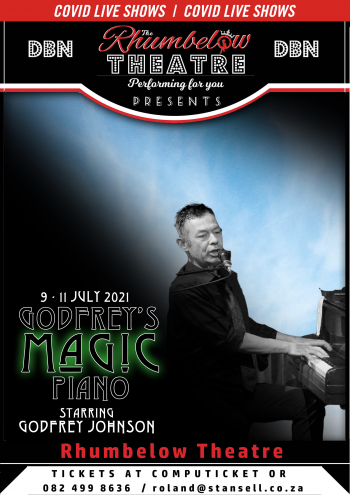 Godfrey's Magic Piano
9th Jul 2021 - 11th Jul 2021
Starring
Godfrey Johnson
CompuTicket
Facebook Page
About The Show
RHUMBELOW THEATRE
42 Cunningham Rd off Bartle Road, Durban
Presents

Godfrey's Magic Piano
Godfrey Johnson
FRIDAY 09 JULY 2021 Show starts 19.30 – DBN
SATURDAY 10 JULY 2021 Show starts 19.30 – DBN
SUNDAY 11 JULY 2021 Show starts 14.00 – DBN
(Venue opens 90 minutes before show for snacks/drinks)
Godfrey's Magic Piano
"Put the blues aside!!! Time for a piano transfusion!!!"
Who remember Sparky? Sparky and his magic piano? Pianos are a place for gathering, playing, laughing and exploring. Godfrey Johnson's been pulling crowds with the piano for years now, ever since the young-boy Johnson couldn't keep his hands to himself (whenever there's a piano around that is)!
So, this year Godfrey is pulling out all the stops (metaphorically of course; he's not an organist) and is working his keys like never before. For you, and you…and, you.
Godfrey's Magic Piano turns the tale of Sparky on its head. Rather than the young boy having fantasies of piano wizardry, this well-maturing man is celebrating the years of the piano mastery he has under his belt. No tricks, no talking pianos. Just the magic sounds emanating from 10 fingers trained by the instrument like so many Lipizzaner's.
Songs with, and without words
The heart of Godfrey's Magic Piano is in the piano arrangements of the songs he loves. Giving them a twist, a trill and tremolo – the songs live with and without words - and it's your turn to hear the real magic.
Combining the best musical inventions of Elton John, Billy Joel, Tori Amos, Noel Coward, Leonard Cohen and – of course – his own, with a magic formula known only to himself, Johnson is serving a banquet of musical flavours that must be tasted at least once in every lifetime.
Come and enjoy an evening of foot stomping, tongue wagging fun.
Godfrey Johnson recently appeared in the Showmax production, Tali's Wedding" and was again nominated for a Fleur du Cap Theatre Award in 2020. Recent shows include performing alongside Pieter-Dirk Uys in "Bambi Sings the FAK Songs and Other Struggle Anthems" as well as the four-time Fleur du Cap nominated play, "VASLAV".
Durban's Top Talent at the Rhumbelow Theatre.
We would ask that if you are able to please assist us and the performers by donating a higher ticket price.
R 180-00 a ticket - to assist with CT airfare.
NO OTHER DISCOUNTS FOR THIS SHOW
Bring food picnic baskets or buy at the venue.
ALL SEATING WILL BE AT SEPARATE TABLES AND WE WILL OBVIOUSLY BE SEATING CO-HABITING COUPLES AND/OR FAMILY MEMBERS TOGETHER.
Limited secure parking available
Booking is essential.

WITH THE CURRENT COVID LEVELS WE WILL BE LIMITING CAPACITY TO 50 % MAX
FULL BAR AVAILABLE
(no alcohol may be brought on to the premises)
Cell 0824998636
BOOKINGS ON EMAIL PLEASE : roland@stansell.co.za
or COMPUTICKET http://events.durbantheatre.com/
For showbiz news, reviews and interviews don't miss Billy Suter's Website at https://sosuterbill.com/
PLEASE NOTE THE FOLLOWING COVID-19 PROTOCOLS FOR PATRONS
HEALTH AND SAFETY PROTOCOLS FOR PATRONS

Patrons need to wear a face and nose covering at all times in the venue except when eating or drinking.
All patrons will have their temperatures taken on arrival at the venue.
All patrons will be required to complete documents relating to Travel and Covid-19 contacts.
All patrons will be required to complete an indemnity form.
All patrons will be required to complete an attendance register with all appropriate information including confirmation of co-habiting when couples attend.
All patrons will be hand sanitized on arrival and at interval.
All patrons will be requested to bring hand sanitizer with them to the venue.
Any patron who does not meet the required Health & Safety protocols and temperature check will be refused entry.
Patrons above the age of 60 or a person with co-morbidities will be discouraged from attending performances. (GOVT GUIDELINES – please be guided by your own health status)