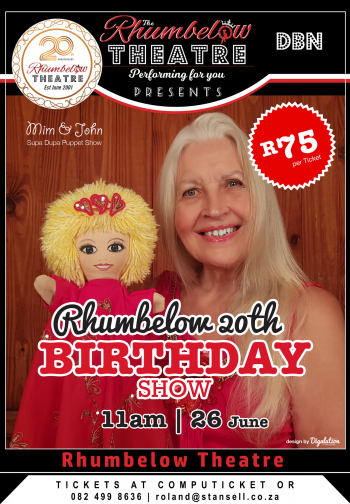 RHUMBELOW 20TH BIRTHDAY SHOW - Fun Birthday Puppet Show
26th Jun 2021 - 26th Jun 2021
Starring
Suzy & Aunty Mim Erasmus
About The Show
RHUMBELOW THEATRE
UMBILO, DURBAN
RHUMBELOW 20TH BIRTHDAY SHOW
Fun Birthday Puppet Show
with Suzy & Aunty Mim Erasmus
11.00 SATURDAY 26 JUNE 2021
Who better to invite to entertain our young theatre goers for the Rhumblow20th Birthday party than the Princess of Parties herself – Suzy, and her Granny and their friends.
On Saturday June 26th, Suzy, Granny and her party friends will sing and dance with you at their Birthday Party Puppet Show.
Roland Stansell has produced the best that Durban has to offer over his 20 year stewardship of The Rhumbelow Theatre, and what better way to introduce children to the wonderful world of theatre than through the mini version – a Puppet Show.
Through the years Suzy and her friends have entertained tens of thousands of children, ending the year with a wonderful Puppet Pantomime at The Rhumbelow Theatre.
We invite children of all ages to come along and celebrate the 20th Birthday of the only Private Theatre in Durban that is still running.
Well done Roland and your amazing team. We can't wait to wish you "Happy Birthday"
The perfect holiday delight for children of all ages, 4 to 400!!
Show Running time: +- 55 minutes.
Snacks and juices will be on sale.
Whilst we are not changing our 2020 pricing, we would ask that if you are able to please assist us and the performers by donating a higher ticket price.
R 75-00 a ticket Book at COMPUTICKET or email Roland
Cell 0824998636 Email : roland@stansell.co.za events.durbantheatre.com
ALL SEATING WILL BE AT SEPARATE SPACES AND WE WILL OBVIOUSLY BE SEATING CO-HABITING COUPLES AND/OR FAMILY MEMBERS TOGETHER.
For showbiz news, reviews and interviews don't miss Billy Suter's Website at https://sosuterbill.com/
PLEASE NOTE THE FOLLOWING COVID-19 PROTOCOLS FOR PATRONS
HEALTH AND SAFETY PROTOCOLS FOR PATRONS

Patrons need to wear a face and nose covering at all times in the venue except when eating or drinking.
All patrons will have their temperatures taken on arrival at the venue.
All patrons will be required to complete documents relating to Travel and Covid-19 contacts.
All patrons will be required to complete an indemnity form covering themselves and their children.
All patrons will be required to complete an attendance register with all appropriate information including confirmation of co-habiting when couples/families attend.
All patrons will be hand sanitized on arrival and at interval.
All patrons will be requested to bring hand sanitizer with them to the venue.
Any patron who does not meet the required Health & Safety protocols and temperature check will be refused entry.
Patrons above the age of 60 or a person with co-morbidities will be discouraged from attending performances. (GOVT GUIDELINES – please be guided by your own health status)