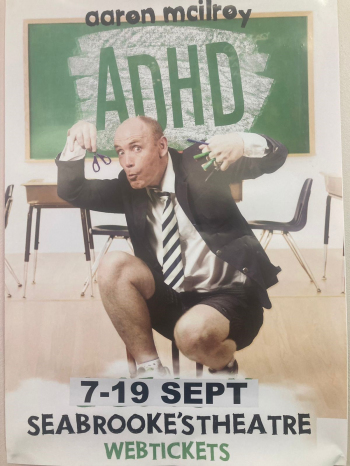 ADHD – an insider's view
7th Sep 2021 - 19th Sep 2021
Starring
Aaron McIlroy
Facebook Page
About The Show
ADHD – an insider's view
Comedy legend Aaron McIlroy makes a welcome return to the Durban stage with his one-of-a-kind hit show, ADHD. A special preview at Seabrooke's Theatre on the DHS Campus in Musgrave will be given on Tuesday 7 September (R100 per person). The popular production will then run at the venue from 8 to 19 September. Performances are at 7pm (Wednesdays to Saturdays) and 3pm (Sundays). Tickets through Webtickets are R180 per person (R160 for students and pensioners). Seating is limited so early booking is advised to avoid disappointment.
Produced by MacBob Productions, this hilarious take on the 'problems' of ADHD - and other 'disturbing behavioral patterns' - is charmingly portrayed by SA's Master of Character Comedy, as Aaron takes you on a wild and whacky journey into the fantastical world of learning disorders!
Facts and theories are turned on their heads, as we get a bird's eye view into the chaotic and beautiful mind of Aaron McIlroy, who has lived with this 'gift' for the last half century and more. "If not exactly autobiographical, I certainly have inside information!" quips Aaron about his show. The veteran comic's hugely popular brand of humour has spiced up the theatre scene over several decades.
Billed as a comedic steamroller without GPS, ADHD is scripted by Aaron McIlroy and Patrick Kenny, and directed by Kenny.