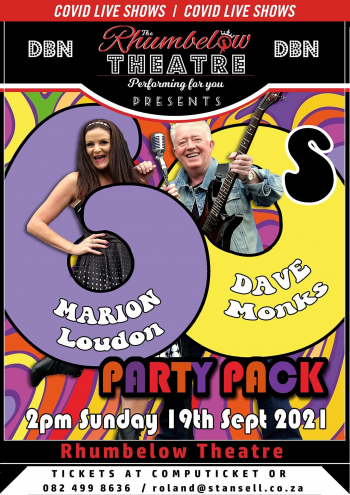 60's Party Pack
19th Sep 2021 - 19th Sep 2021
Starring
DAVE MONKS & MARION LOUDON
CompuTicket
About The Show
RHUMBELOW THEATRE
42 Cunningham Rd off Bartle Road, Durban
Presents

60's Party Pack
DAVE MONKS & MARION LOUDON
SUNDAY 19 SEPT 2021 Show starts 14.00 – DBN
(Venue opens 90 minutes before show for snacks/drinks)
60s is no doubt let the good times roll again. Dave Monks & Marion Loudon transport you back in time to the "Era of Real Music".
Dave & Marion entertain superbly in this very well put together collection of nostalgic and popular Sixties hits. The show features covers of more than 20 different artists which include, The Beatles, Sony & Cher, Sandie Shaw, Nancy Sinatra, The Monkees, Cliff Richard, Mary Hopkins, Credence Clearwater Revival, The Bee Gees and The Animals just to name a few.
Marion's amazing voice, vocal range and versatility never ceases to shine and particularly in songs like My Boy Lollipop, Da Do Ron Ron, These Boots Are Made for Walking, and the ever green hit House of the Rising Sun.
Dave features with some great lead guitar work as he glides through some of The Shadows greatest hits, Atlantis and the ever green Apache which incidentally has been recently voted as No 1 greatest guitar instrumental of all time.
Dave & Marion's voices blend extremely well together and so they should as they have performed together all over South Africa including Sun City, Swaziland, Johannesburg and far too many corporate events and festivals to mention. Dave & Marion have also been the voices behind many radio adverts and Just for the notebook Marion Loudon has been the harmonising vocalist on all of Dave Monks solo CDs.
The show consists of a wide variety of those great sixties songs plus some very well thought out medleys which flow along with great ambiance and will surely have your hands clapping and toes tapping. The Beatles Medley and Rock & Roll Medleys will have you reminiscing, particularly those of you who were around during the great explosive musical times of the 60's. The use of harmonica on some of The Beatles songs is very effective and very in tune with the whole 60's vibe. Very clever backing tracks together with Dave Monks & Marion Loudon makes this show a must for the whole family and certainly one not to be missed.
60s comes alive in this celebration of an entire decade of music which runs from start to finish like clockwork.
Dave Monks & Marion Loudon 60s show is guaranteed to have you wanting to come back for more!!
CDs on sale at the show. 60's: Blast from the Past Volume 1 & Volume 2.
Durban's Top Talent at the Rhumbelow Theatre.
We would ask that if you are able to please assist us and the performers by donating a higher ticket price.
R 160-00 a ticket
NO OTHER DISCOUNTS FOR THIS SHOW
Bring food picnic baskets or buy at the venue.
ALL SEATING WILL BE AT SEPARATE TABLES AND WE WILL OBVIOUSLY BE SEATING CO-HABITING COUPLES AND/OR FAMILY MEMBERS TOGETHER.
Limited secure parking available
Booking is essential.

WITH THE CURRENT COVID LEVELS WE WILL BE LIMITING CAPACITY TO 50 MAX
FULL BAR AVAILABLE
(no alcohol may be brought on to the premises)
Cell 0824998636
BOOKINGS ON EMAIL PLEASE : roland@stansell.co.za
or COMPUTICKET http://events.durbantheatre.com/
For showbiz news, reviews and interviews don't miss Billy Suter's Website at https://sosuterbill.com/
PLEASE NOTE THE FOLLOWING COVID-19 PROTOCOLS FOR PATRONS
HEALTH AND SAFETY PROTOCOLS FOR PATRONS

Patrons need to wear a face and nose covering at all times in the venue except when eating or drinking.
All patrons will have their temperatures taken on arrival at the venue.
All patrons will be required to complete documents relating to Travel and Covid-19 contacts.
All patrons will be required to complete an indemnity form.
All patrons will be required to complete an attendance register with all appropriate information including confirmation of co-habiting when couples attend.
All patrons will be hand sanitized on arrival and at interval.
All patrons will be requested to bring hand sanitizer with them to the venue.
Any patron who does not meet the required Health & Safety protocols and temperature check will be refused entry.
Patrons above the age of 60 or a person with co-morbidities will be discouraged from attending performances. (GOVT GUIDELINES – please be guided by your own health status)