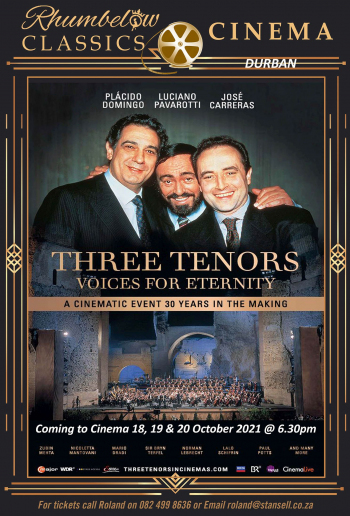 RHUMBELOW CLASSICS CINEMA - Three Tenors: Voices for Eternity
18th Oct 2021 - 20th Oct 2021
Starring
Luciano Pavarotti, José Carreras and Plácido Domingo
CompuTicket
Facebook Page
About The Show
RHUMBELOW CLASSICS CINEMA
Cunningham Rd, Umbilo
Three Tenors: Voices for Eternity
MONDAY 18 OCT 2021 Film starts 18.30 – DBN
TUESDAY 19 OCT 2021 Film starts 18.30 – DBN
WEDNESDAY 20 OCT 2021 Film starts 18.30 – DBN
RUNNING TIME 1 HRS 30 MIN
Three Tenors: Voices for Eternity is a cinematic event 30 years in the making.
It's been 30 years since Luciano Pavarotti, José Carreras and Plácido Domingo made their historic debut as The Three Tenors at the ancient baths of Caracalla on the eve of the 1990 Football World Cup Final. A global audience of 1.6 billion people watched this groundbreaking concert - and it catapulted classical music into a completely new dimension, becoming the best-selling classical album of all time.
Three Tenors: Voices for Eternity celebrates the emotional highlights of that first concert and the sequel in Los Angeles. With brand new interviews and never-before-seen backstage footage, this documentary offers a fascinating insight into the rivalries and friendships of the legendary opera stars from 1990 through to Pavarotti's passing in 2007.
As opera houses remain silent and football stadiums are empty of supporters, fans can relive the moment history was made by The Three Tenors in Rome 1990, and remember the night when the 'Beautiful Game' crossed a cultural divide and changed classical music forever.
R 100-00 a ticket
Bring food picnic baskets or buy at the venue.
ALL SEATING WILL BE AT SEPARATE TABLES AND WE WILL OBVIOUSLY BE SEATING CO-HABITING COUPLES AND/OR FAMILY MEMBERS. COVID LIMIT – MAX 50 %
Limited secure parking available
Booking is essential.
Bar Available
(no alcohol may be brought on to the premises)
Cell 0824998636
BOOKINGS ON EMAIL PLEASE : roland@stansell.co.za or COMPUTICKET
http://events.durbantheatre.com/
For showbiz news, reviews and interviews don't miss Billy Suter's Website at https://sosuterbill.com/
ALL TICKETS MUST BE PRE-BOOKED
NO WALKINS ALLOWED
PLEASE NOTE THE FOLLOWING COVID-19 PROTOCOLS FOR PATRONS
HEALTH AND SAFETY PROTOCOLS FOR PATRONS

Patrons need to wear a face and nose covering at all times in the venue except when eating or drinking.
All patrons will have their temperatures taken on arrival at the venue.
All patrons will be required to complete documents relating to Travel and Covid-19 contacts.
All patrons will be required to complete an indemnity form.
All patrons will be required to complete an attendance register with all appropriate information including confirmation of co-habiting when couples attend.
All patrons will be hand sanitized on arrival and at interval.
All patrons will be requested to bring hand sanitizer with them to the venue.
Any patron who does not meet the required Health & Safety protocols and temperature check will be refused entry.