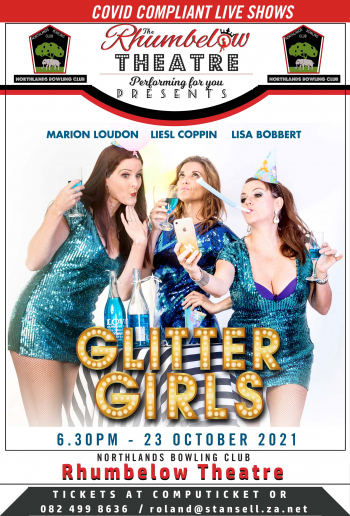 THE GLITTER GIRLS
23rd Oct 2021 - 23rd Oct 2021
Starring
THE GLITTER GIRLS Lisa Bobbert, Liesl Coppin and Marion Loudon
CompuTicket
Facebook Page
About The Show
NORTHLANDS BOWLING CLUB
50 Margaret Mayton Ave, Durban North
In Association with The Rhumbelow Theatre
Present
THE GLITTER GIRLS
Lisa Bobbert, Liesl Coppin and Marion Loudon
RHUMBELOW NORTHLANDS 6.30PM SAT 23 OCT 2021
Lisa Bobbert, Liesl Coppin and Marion Loudon have decided to re visit one of their favourite shows, The Glitter Girls.
These multi-award winning performers are Durban's most loved and versatile artists. Together they are a formidable femme de force who not only light up the stage but have the audience eating out of the palms of their manicured hands. All three are natural comics that keep the audience in stitches with performances that can only be described as "irrepressible"!
Anyone remember Pac-man... The Rubic cube and Dallas? Yip, 1989 was a special year. These three trend busting Glitter Girls have to go back! Back to neon, back to big hair and back to High School -Scottburgh High for their 30 year school reunion!
Lisa, Liesl and Marion are absolute charmers – all three are previous recipients of the coveted Mercury Durban Theatre Personality of the Year Award. You don't have to be an Eighties child to enjoy this light hearted and highly entertaining musical comedy.
The Glitter Girls won the 2014 Mercury Durban Theatre Award for Best Musical Review. This comedy hinges around a 30 year school reunion and includes songs from the 80s right up to today with hits from Bananarama, Eurythmics, Rihanna, Madonna and Abba, Pink and Meghan Trainor.
The absolute highlight of the show is when the girls gender-bend into their alter-egos; Kenny de la Mare, ex south coast stud who, 30 years on, still lives with his mom in a Wendy house; Ruben Lipshitz, still a fatty but has made a lot of money in Joburg and returns to see his old friends on the South Coast; and John Grey, ex head boy of Scottburgh High, who has lost his hair and been unlucky in love. These dudes are underscored by the unmistakable backbeat of Duran Duran, Rick Ashley and Wham and Bruno Mars.
Top Talent at the Rhumbelow Theatre.
Whilst we are not changing our 2020 pricing, we would ask that if you are able to please assist us and the performers by donating a higher ticket price.
R 160-00 a ticket
Northlands Bowling Club Members R 130-00
NO OTHER DISCOUNTS FOR THIS SHOW
Bring food picnic baskets.
ALL SEATING WILL BE AT SEPARATE TABLES AND WE WILL OBVIOUSLY BE SEATING CO-HABITING COUPLES AND/OR FAMILY MEMBERS TOGETHER.
Limited secure parking available
Booking is essential.

WITH THE CURRENT COVID LEVELS WE WILL BE LIMITING CAPACITY TO 50 % MAX
FULL BAR AVAILABLE
(no alcohol may be brought on to the premises)
Cell 0824998636
BOOKINGS ON EMAIL PLEASE : roland@stansell.co.za
or COMPUTICKET http://events.durbantheatre.com/

For showbiz news, reviews and interviews don't miss Billy Suter's Website at https://sosuterbill.com/
PLEASE NOTE THE FOLLOWING COVID-19 PROTOCOLS FOR PATRONS
HEALTH AND SAFETY PROTOCOLS FOR PATRONS

Patrons need to wear a face and nose covering at all times in the venue except when eating or drinking.
All patrons will have their temperatures taken on arrival at the venue.
All patrons will be required to complete documents relating to Travel and Covid-19 contacts.
All patrons will be required to complete an indemnity form.
All patrons will be required to complete an attendance register with all appropriate information including confirmation of co-habiting when couples attend.
All patrons will be hand sanitized on arrival and at interval.
All patrons will be requested to bring hand sanitizer with them to the venue.
Any patron who does not meet the required Health & Safety protocols and temperature check will be refused entry.
Patrons above the age of 60 or a person with co-morbidities will be discouraged from attending performances. (GOVT GUIDELINES – please be guided by your own health status)