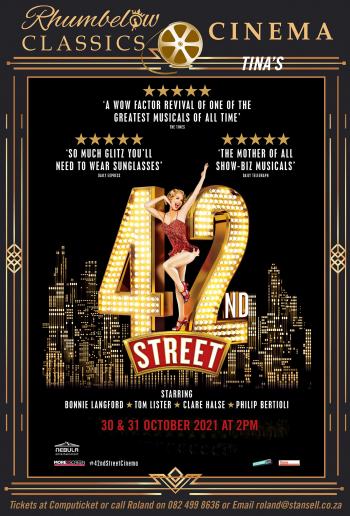 42nd Street – The Musical
30th Oct 2021 - 31st Oct 2021
Starring
See full cast list in press release.
CompuTicket
Facebook Page
About The Show
RHUMBELOW THEATRE
Tina's Hotel, 14 Beryldene Rd, Kloof
Presents
42nd Street – The Musical
Filmed live at the Theatre Royal, Drury Lane, London
SATURDAY 30 OCT 2021 Show starts 14.00
SUNDAY 31 OCT 2021 Show starts 14.00
RHUMBELOW TINA'S
(Venue opens 90 minutes before food and drinks downstairs at Tina's)

Running Time: 154 minutes (including one 20-minute interval)
42nd Street, the legendary Broadway musical theatre classic, is a 'glorious' (★★★★★ Express) and 'utterly moreish extravaganza of glitz' (★★★★★ Times). Telling the story of Peggy Sawyer, a talented young performer with stars in her eyes who gets her big break on Broadway, this is the largest ever staging of the Tony® Award-winning musical and it was filmed live at the magnificent Theatre Royal, Drury Lane, in the heart of London's West End. Fresh off the bus from small-town America Peggy is just another face in the chorus line on Broadway's newest show. But when the leading lady gets injured, Peggy might just have the shot at stardom she's always dreamed of… Directed by the show author, Mark Bramble, this 'achingly beautiful revival of an American classic' (★★★★★ Telegraph) stars national treasure Bonnie Langford as Dorothy Brock, Tom Lister as Julian Marsh, Clare Halse as Peggy Sawyer and Philip Bertioli as Billy Lawlor, performing with a dazzling tap-dancing and show-stopping ensemble cast. Featuring iconic songs 42nd Street, We're In The Money, Lullaby Of Broadway, Shuffle Off To Buffalo, Dames and I Only Have Eyes For You, this is pure musical magic on the big screen – entertainment doesn't get bigger than this!
CREDITS
Cast
Dorothy Brock BONNIE LANGFORD
Julian Marsh TOM LISTER
Peggy Sawyer CLARE HALSE
Billy Lawlor PHILIP BERTIOLI
Maggie Jones JASNA IVIR
Bert Barry CHRISTOPHER HOWELL
Pat Denning MATTHEW GOODGAME
Andy Lee GRAEME HENDERSON
Abner Dillon BRUCE MONTAGUE
Mac / Doc / Thug MARK MCKERRACHER
Annie EMMA CAFFREY
Lorraine ELLA MARTINE
Phyllis CLARE RICKARD
Oscar PAUL KNIGHT
Production
Book by Michael Stewart & Mark Bramble
Music & Lyrics by Harry Warren & Al Dubin
Director MARK BRAMBLE
Set Designer DOUGLAS W. SCHMIDT
Costume Designer ROGER KIRK
Lighting Designer PETER MUMFORD
Sound Designer GARETH OWEN
SOCIAL MEDIA
#42ndStreet
#42ndStreetMusical
#42ndStreetCinema
PRESS QUOTES
★★★★★
'Achingly beautiful revival of an American classic' - THE TELEGRAPH
★★★★★
'Glorious' - THE EXPRESS
★★★★★
'Utterly moreish extravaganza of glitz' - THE TIMES
★★★★★
'Extraordinary' - THE STAGE
★★★★
'Quality Street' - DAILY MAIL
★★★★
'A spectacular revival' - TIME OUT
ALL SEATING WILL BE AT SEPARATE TABLES AND WE WILL OBVIOUSLY BE SEATING CO-HABITING COUPLES AND/OR FAMILY MEMBERS.
50 % MAX CAPACITY PER SHOW
Please note that for us to viably re-open The Rhumbelow Theatre at Tina's Hotel we need to make some changes in regards how we run at Tina's. We need to assist in generating a regular income for the hotel so that the theatre can continue to operate and for the hotel to also sustain itself.
TOTAL TICKET PRICE FOR TINAS – SHOW ONLY
R 100-00 each min Table Size 4
To assist in keeping the hotel afloat as well, we have agreed that a basic meal will be offered – this is optional.
There are 5 meal options available at a cost of R 100-00 each.
TOTAL TICKET PRICE FOR TINAS – INCL FOOD
R 200-00 Min Table Size 4
THE KITCHEN IS OPEN IF YOU WISH TO ARRIVE AND ORDER OFF THE MENU (BOOKINGS ARE ESSENTIAL) WE RECOMMEND THAT YOU ARRIVE ATLEAST AN HOUR AND A HALF PRIOR TO THE START OF THE SHOW.
Tickets are EFT ONLY
Secure Parking is available.
(PLEASE NOTE -no alcohol or food may be brought on to the premises)
To Book email Roland for bookings and get that money rolling in. As the hotel is on a reduced kitchen staff compliment, all show meals need to be ordered when you make your booking,
Cell 0824998636
Email: roland@stansell.co.za
Website: https://events.durbantheatre.com/
Tina's Restaurant
All tables will be served warm fresh cocktail rolls on arrival with mini butter pads.
Option A
Crumbed Chicken Schnitzel – A perfectly seasoned crumbed chicken fillet served with mashed potato, our veg of the day and a sauce of your choice (cheese or pepper)
Mash potato
Veg of the day
Served with Cheese or Pepper sauce
Option B
Chicken Basket – A famous classic. It consists of base basket of chips, topped with a portion of crumbed chicken strips, sticky BBQ wings and onion rings. Served with two dipping sauces either hot or not.
Chips
Crumbed Chicken Strips
Sticky BBQ Wings
Onion Rings
Two dipping sauces (option between hot or not)
Option C
Ribs Basket - Something to write home about. It is a base basket of chips & BBQ basted (melt off the bone) ribs and onion rings. Served with two dipping sauces either hot or not.
Chips
Ribs
Onion Rings
Two dipping sauces (option between hot or not)
Option D
Snack Basket – A bit of each. It consists of base basket of chips, topped with a portion of crumbed chicken strips, juicy meatballs, samosas and onion rings. Served with two dipping sauces either hot or not.
Chips
Crumbed Chicken Strips
Meatballs
Samosa
Onion Rings
Two dipping sauces (option between hot or not)
Option E
Vegan Lasagne – A delectable vegan delight.
Layers of Spinach Lasagne, a Soy milk Bechamel sauce and homemade Marinara.
Topped with a Vegan Mozzarella and Cheddar Cheese
ALL TICKETS MUST BE PRE-BOOKED NO WALKINS ALLOWED
PLEASE NOTE THE FOLLOWING COVID-19 PROTOCOLS FOR PATRONS
HEALTH AND SAFETY REGARDING VENUES

All staff will be issued with Face shields.
All staff will be issued with Mouth and nose coverings.
All venues & equipment will be fogged and sanitized before and after each show.
Hand sanitiser and surface cleaner is available at all our venues to ensure safety.
Where possible windows and doors will be kept open to ensure max ventilation.
All venues will have demarcations to ensure social distancing on arrival and in the venues.

HEALTH AND SAFETY PROTOCOLS FOR PATRONS

Patrons need to wear a face and nose covering at all times in the venue except when eating or drinking.
All patrons will have their temperatures taken on arrival at the venue.
All patrons will be required to complete documents relating to Travel and Covid-19 contacts.
All patrons will be required to complete an indemnity form.
All patrons will be required to complete an indemnity Form, Travel & Covid Form & an attendance register with all appropriate information including confirmation of co-habiting/family/socialising groups when attending.
All patrons will be hand sanitized on arrival.
All patrons will be requested to bring hand sanitizer with them to the venue.
Any patron who does not meet the required Health & Safety protocols and temperature check will be refused entry.
Patrons above the age of 60 or a person with co-morbidities will be discouraged from attending performances. (Government Guidelines - – please be guided by your own health status)