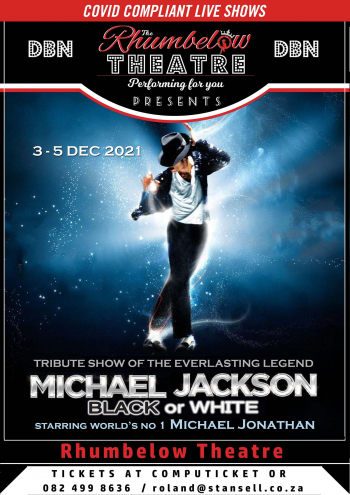 MICHAEL JACKSON - BLACK OR WHITE
3rd Dec 2021 - 5th Dec 2021
Starring
Michael Jonathan & Dancers
CompuTicket
Facebook Page
About The Show
RHUMBELOW THEATRE
42 Cunningham Rd off Bartle Road, Durban
MICHAEL JACKSON
BLACK OR WHITE
Michael Jonathan & Dancers
FRIDAY 03 DEC 2021 Show starts 19.00 – DBN
SATURDAY 04 DEC 2021 Show starts 19.00 – DBN
SUNDAY 05 DEC 2021 Show starts 14.00 – DBN
(Venue opens 90 minutes before show for snacks/drinks)
From a young age Michael Jonathan felt the magic of Michael Jackson and started mimicking his dance moves.
In the words of the legend himself "the greatest education in the world is watching the masters at work" and that is exactly what Michael Jonathan did.
His uncanny resemblance to the king of pop and perfected dance moves, earned him the title of the new king of pop and the worlds no1 impersonator
Michael came to South Africa 15 years ago from France, he studied at the school of arts in Pretoria and began his professional career 14 years ago, amazing audiences with his tribute shows.
Do you remember the time you first saw the moonwalk…….? Capture the moment again with Michael as he takes you back in time with all the signature moves.
Along with his team of dancers they have perfected all the moves and they want to take you down memory lane. Experience the music and the magic from the exhilarating dance routines to songs such as Billie Jean, Thriller, Beat it, Remember the time, Dirty Diana, black or white and many more.
In this prejudice world that we live in, we need the chance to escape and enjoy ourselves.
We need to be reminded that it doesn't matter if you're BLACK OR WHITE, we are one, and we need to heal the world with one kind act a time.
This is more than a show – it is part of History – Don't miss it!!!
Top Talent at the Rhumbelow Theatre.
R 180-00 a ticket
NO OTHER DISCOUNTS FOR THIS SHOW
Bring food picnic baskets or buy at the venue.
ALL SEATING WILL BE AT SEPARATE TABLES AND WE WILL OBVIOUSLY BE SEATING CO-HABITING COUPLES AND/OR FAMILY MEMBERS TOGETHER.
Limited secure parking available
Booking is essential.
WITH THE CURRENT COVID LEVELS WE WILL BE LIMITING CAPACITY TO 50 % MAX
FULL BAR AVAILABLE
(no alcohol may be brought on to the premises)
Cell 0824998636
BOOKINGS ON EMAIL PLEASE : roland@stansell.co.za
or COMPUTICKET
http://events.durbantheatre.com/
For showbiz news, reviews and interviews don't miss Billy Suter's Website at https://sosuterbill.com/
PLEASE NOTE THE FOLLOWING COVID-19 PROTOCOLS FOR PATRONS
HEALTH AND SAFETY PROTOCOLS FOR PATRONS

Patrons need to wear a face and nose covering at all times in the venue except when eating or drinking.
All patrons will have their temperatures taken on arrival at the venue.
All patrons will be required to complete documents relating to Travel and Covid-19 contacts.
All patrons will be required to complete an indemnity form.
All patrons will be required to complete an attendance register with all appropriate information including confirmation of co-habiting when couples attend.
All patrons will be hand sanitized on arrival and at interval.
All patrons will be requested to bring hand sanitizer with them to the venue.
Any patron who does not meet the required Health & Safety protocols and temperature check will be refused entry.