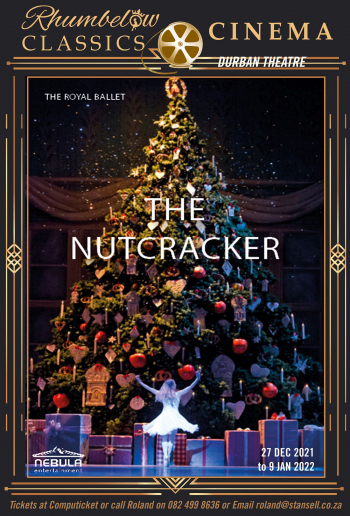 THE NUTCRACKER
27th Dec 2021 - 9th Jan 2022
Starring
The Royal Ballet
CompuTicket
Facebook Page
About The Show
RHUMBELOW CLASSICS CINEMA
Cunningham Rd, Umbilo & Tina's
THE NUTCRACKER
The Royal Ballet
Filmed from their Dec 2021 Season In London
MONDAY 27 DEC 2021 Film starts 14.00 – DBN
MONDAY 27 DEC 2021 Film starts 18.30 – DBN
TUESDAY 28 DEC 2021 Film starts 14.00 – DBN
TUESDAY 28 DEC 2021 Film starts 18.30 – DBN
WEDNESDAY 29 DEC 2021 Film starts 14.00 – DBN
WEDNESDAY 29 DEC 2021 Film starts 18.30 – DBN
THURSDAY 30 DEC 2021 Film starts 14.00 – DBN
THURSDAY 30 DEC 2021 Film starts 18.30 – DBN
FRIDAY 31 DEC 2021 Film starts 14.00 – DBN
FRIDAY 31 DEC 2021 Film starts 18.30 – DBN
(Venue opens 60 minutes before show for snacks/drinks)
MONDAY 03 JAN 2022 Film starts 14.00 – DBN
MONDAY 03 JAN 2022 Film starts 18.30 – DBN
TUESDAY 04 JAN 2022 Film starts 14.00 – DBN
TUESDAY 04 JAN 2022 Film starts 18.30 – DBN
WEDNESDAY 05 JAN 2022 Film starts 14.00 – DBN
WEDNESDAY 05 JAN 2022 Film starts 18.30 – DBN
THURSDAY 06 JAN 2022 Film starts 14.00 – DBN
THURSDAY 06 JAN 2022 Film starts 18.30 – DBN
FRIDAY 07 JAN 2022 Film starts 14.00 – DBN
FRIDAY 07 JAN 2022 Film starts 18.30 – DBN
SATURDAY 08 JAN 2022 Film starts 18.30 – DBN
SUNDAY 09 JAN 2022 Film starts 14.00 – DBN
(Venue opens 60 minutes before show for snacks/drinks)
Running Time: 2 hours and 40 minutes (including one interval)
Enjoy this sparkling ballet as an enchanting, festive treat for the whole family.
The Nutcracker is a family favourite at Christmas time and is one of the most delightful ways to discover the enchantment of ballet. The story of Clara, a girl on a magical Christmas Eve adventure, is accompanied by sparkling music and even dancing sweets! Watch the full company of The Royal Ballet in this much-loved ballet classic.
Cast
Akane Takada (The Sugar Plum Fairy), Cesar Corrales (The Prince), Christopher Saunders (Herr Drosselmeyer), Isabella Gasparini (Clara), Luca Acri (Hans-Peter/The Nutcracker)
Orchestra Of The Royal Opera House
Conducted By Koen Kessels
Credits
Choreography Peter Wright After Lev Ivanov
Music Pyotr Il'yich Tchaikovsky
Original scenario – Marius Petipa
Production and scenario – Peter Wright
Designer – Julia Trevelyan Oman
Lighting designer – Mark Henderson
Production consultant – Roland John Wiley
R 100-00 a ticket
Bring food picnic baskets or buy at the venue.
ALL SEATING WILL BE AT SEPARATE TABLES AND WE WILL OBVIOUSLY BE SEATING CO-HABITING COUPLES AND/OR FAMILY MEMBERS. COVID LIMIT – MAX 50 %
Limited secure parking available
Booking is essential.
Bar Available
(no alcohol may be brought on to the premises)
Cell 0824998636
BOOKINGS ON EMAIL PLEASE : roland@stansell.co.za or COMPUTICKET
http://events.durbantheatre.com/
For showbiz news, reviews and interviews don't miss Billy Suter's Website at https://sosuterbill.com/
ALL TICKETS MUST BE PRE-BOOKED
NO WALKINS ALLOWED
PLEASE NOTE THE FOLLOWING COVID-19 PROTOCOLS FOR PATRONS
HEALTH AND SAFETY PROTOCOLS FOR PATRONS

Patrons need to wear a face and nose covering at all times in the venue except when eating or drinking.
All patrons will have their temperatures taken on arrival at the venue.
All patrons will be required to complete documents relating to Travel and Covid-19 contacts.
All patrons will be required to complete an indemnity form.
All patrons will be required to complete an attendance register with all appropriate information including confirmation of co-habiting when couples attend.
All patrons will be hand sanitized on arrival and at interval.
All patrons will be requested to bring hand sanitizer with them to the venue.
Any patron who does not meet the required Health & Safety protocols and temperature check will be refused entry.