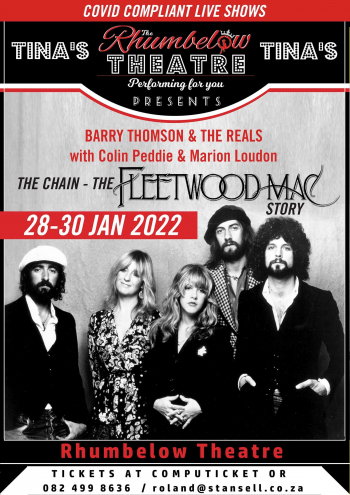 'THE CHAIN' - The Fleetwood Mac Story
28th Jan 2022 - 30th Jan 2022
Starring
Barry Thomson , Dawn Selby, Mali Sewell, Andy Turrell & Guest Guitarist Colin Peddie & Durban Singer Marion Loudon.
CompuTicket
Facebook Page
About The Show
RHUMBELOW THEATRE
Tina's, 14 Beryldene Rd, Kloof
Presents
'THE CHAIN' - The Fleetwood Mac Story
The Reals
Barry Thomson , Dawn Selby, Mali Sewell, Andy Turrell & Guest Guitarist Colin Peddie & Durban Singer Marion Loudon.
FRIDAY 28 JAN 2022 Show starts 19.00 – TINA'S
SATURDAY 29 JAN 2022 Show starts 19.00 – TINA'S
SUNDAY 30 JAN 2022 Show starts 14.00 – TINA'S
(Venue opens 90 minutes before show if eating downstairs)
(For Restaurant reservations please contact 061 541 7753)
Back by popular demand.
The Fleetwood Mac story is an episodic saga that spans more than 30 years, starting in 1967 as a British blues band that later became a California-based pop group in the mid-Seventies. In between came a period where Fleetwood Mac shuffled personnel and experimented with styles, all the while releasing solid albums with chart topping hits.
Perhaps just as well known for their tangled relationships and addictions, as they were for their music, Fleetwood Mac had massive success and can be found on every list of the world's top selling bands.
Mixing relationships and business together can either be a disaster or lead to success. With Fleetwood Mac, although the breakups of band members John and Christine McVie as well as Lindsey Buckingham and Stevie Nicks created chaos, it lead to the creation of the hit album Rumours with hit singles GO YOUR OWN WAY, DREAMS and DON'T STOP. To date, Fleetwood Mac has sold more than 100 million albums worldwide.
The REALS, with Durban favourites Dawn Selby on the keyboard, Barry Thomson on the guitar, Andy Tuirell on the bass and Mali Sewell on drums, will cover all the great hits of Fleetwood Mac, which will also feature regular guest, Durban singer Marion Loudon as well as guitarist Colin Peddie. Expect to hear all your favourites LITTLE LIES, 7 WONDERS, EVERYWHERE, LANDSLIDE, THE CHAIN and then some.
Authentic-sounding and always respectful, The REALS will take the audience on a sweet ride down memory lane, replicating the sounds of one of the world's best-loved bands.
Durban's Top Talent at the Rhumbelow Theatre.
ALL SEATING WILL BE AT SEPARATE TABLES AND WE WILL OBVIOUSLY BE SEATING CO-HABITING COUPLES AND/OR FAMILY MEMBERS.
50 % MAX CAPACITY PER SHOW
TOTAL TICKET PRICE FOR TINAS – SHOW ONLY
R 180-00 each min Table Size 4
THE KITCHEN IS OPEN IF YOU WISH TO ARRIVE AND ORDER OFF THE MENU (BOOKINGS ARE ESSENTIAL) WE RECOMMEND THAT YOU ARRIVE AT LEAST AN HOUR AND A HALF PRIOR TO THE START OF THE SHOW.
Tickets are EFT ONLY
Secure Parking is available.
(PLEASE NOTE -no alcohol or food may be brought on to the premises)
To Book email Roland for bookings and get that money rolling in.
Cell 0824998636
Email: roland@stansell.co.za
Website: https://events.durbantheatre.com/
ALL TICKETS MUST BE PRE-BOOKED NO WALKINS ALLOWED
PLEASE NOTE THE FOLLOWING COVID-19 PROTOCOLS FOR PATRONS
HEALTH AND SAFETY REGARDING VENUES

All staff will be issued with Face shields.
All staff will be issued with Mouth and nose coverings.
All venues & equipment will be fogged and sanitized before and after each show.
Hand sanitiser and surface cleaner is available at all our venues to ensure safety.
Where possible windows and doors will be kept open to ensure max ventilation.
All venues will have demarcations to ensure social distancing on arrival and in the venues.

HEALTH AND SAFETY PROTOCOLS FOR PATRONS

Patrons need to wear a face and nose covering at all times in the venue except when eating or drinking.
All patrons will have their temperatures taken on arrival at the venue.
All patrons will be required to complete documents relating to Travel and Covid-19 contacts.
All patrons will be required to complete an indemnity form.
All patrons will be required to complete an indemnity Form, Travel & Covid Form & an attendance register with all appropriate information including confirmation of co-habiting/family/socialising groups when attending.
All patrons will be hand sanitized on arrival.
All patrons will be requested to bring hand sanitizer with them to the venue.
Any patron who does not meet the required Health & Safety protocols and temperature check will be refused entry.