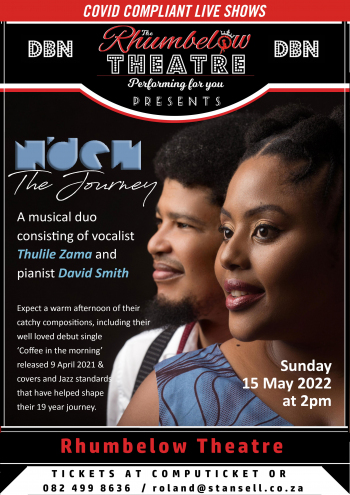 N'DEN – THE JOURNEY - Thulile Zama and pianist David Smith
15th May 2022 - 15th May 2022
Starring
Thulile Zama and pianist David Smith
CompuTicket
Facebook Page
About The Show
RHUMBELOW THEATRE
42 Cunningham Rd off Bartle Road, Durban
Presents
N'DEN – THE JOURNEY
Thulile Zama and pianist David Smith
SUNDAY 15 MAY 2022 Show starts 14.00
Venue opens 90 minutes before show for picnic dinner)
N'den, a musical duo consisting of vocalist Thulile Zama and pianist David Smith will perform at Rhumbelow Theatre Durban on Sunday 15 May 2022 at 2pm.
The Duo met in the early 2000s while studying music at the University of KwaZulu-Natal. Their humble musical beginning as a duo started with playing gigs in different restaurants and corporate scene.
Smith has always had an undoubted passion for music, and was a member of a very successful Jazz/Hip Hop band, Big Idea, that made waves throughout the country. Zama distinguished by her dazzling voice, is the lead vocalist of the successful all female contemporary jazz band Heels Over Head (best contemporary jazz nominees SAMA - 2011), (Yamaha Young Artist winners 2010). This versatile vocalist is well-known in the jazz circuit and a well-loved vocalist in Durban. Her talents have taken her to Hamburg and Berlin, Germany and New Orleans, USA.
Together they are part of the Tributes to Mama Africa / Sophiatown band since 2017. In the last few years, the duet has been composing original music and covering some of their favourite songs for their You Tube channel and social media pages.
Expect a warm afternoon of their catchy compositions, including their well loved debut single 'Coffee in the morning' released 9 April 2021 ndenmusic.co.za and covers and Jazz standards that have helped shape their 19 year journey.
Please find links on
Youtube: https://www.youtube.com/channel/UC3eMn6dxoGpxt3gueADcgKA
facebook: https://web.facebook.com/NDENMUSIC
Instagram: https://www.instagram.com/nden_music/
R 160-00 a ticket
FOOD AVAILABLE AT THE VENUE.
Limited secure parking available Booking is essential.
Bar Available (no alcohol may be brought on to the premises)
WITH THE CURRENT COVID LEVELS WE WILL BE LIMITING CAPACITY TO 50 % MAX
Book at COMPUTICKET or email Roland for bookings and get that money rolling in.
Cell 0824998636 Email : roland@stansell.co.za http://events.durbantheatre.com/
For showbiz news, reviews and interviews don't miss Billy Suter's Website at https://sosuterbill.com/
HEALTH AND SAFETY PROTOCOLS FOR PATRONS
Patrons need to wear a face and nose covering at all times in the venue except when eating or drinking.