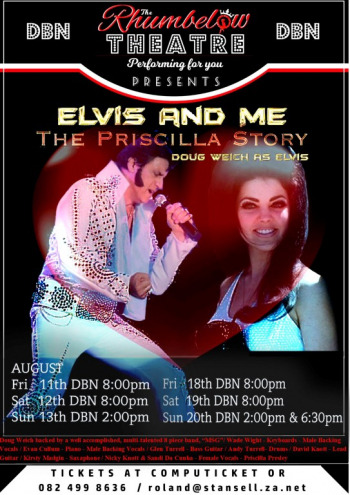 "ELVIS & ME" :- The Priscilla Story
11th Aug 2017 - 20th Aug 2017
Starring
Doug Weich & his 8 piece band "MSG" . Wade Wight, Evan Cullum , Glen Turrell, Andy Turrell, David Knott, Kirsty Madgin, Nicky Knott & Sandi Da Cunha
CompuTicket
Facebook Page
About The Show
RHUMBELOW THEATRE
PMB and DBN
Presents
"ELVIS & ME" :- The Priscilla Story
Doug Weich & his 8 piece band "MSG"

FRIDAY 11 AUG 2017 Show starts 20.00 - DBN
SATURDAY 12 AUG 2017 Show starts 20.00 - DBN
SUNDAY 13 AUG 2017 Show starts 14.00 - DBN

FRIDAY 18 AUG 2017 Show starts 20.00 - DBN
SATURDAY 19 AUG 2017 Show starts 20.00 - DBN
SUNDAY 20 AUG 2017 Show starts 14.00 - DBN
SUNDAY 20 AUG 2017 Show starts 18.30 - DBN
SUNDAY 10 SEPT 2017 Show starts 14.00 - PMB
SUNDAY 10 SEPT 2017 Show starts 18.30 - PMB
(Venues opens 90 minutes before show for picnic dinner)
Back by popular demand, Elvis Presley tribute artist, Doug Weich , marks his sixth consecutive year at the Rhumbelow Theatre with his new show ,"ELVIS & ME", "The Priscilla Story".
The show tells the story, seen through Priscilla's eyes, about the relationship between Elvis and Priscilla from when they first met up until the day the music died with the passing of Elvis on 16th August 1977.
"Elvis & Me" "The Priscilla Story" takes us on a journey through the different era's of Elvis and Priscilla, as we pay tribute to one of the greatest entertainers of all times, "The King Of Rock n' Roll", and also pay tribute to his "Queen" the one and only true love of his life, Priscilla Presley. It was a fairy tale love story that was filled with so much happiness but ended in so much heartache. A love and regret that was so strong, that no fame nor fortune could stop the downward spiral that would eventually lead to Elvis' self destruction.
A Rocktainment Production, Doug's is backed by his well accomplished, multi talented 8 piece band, "MSG".
Wade Wight / Keyboards/ Male Backing Vocals
Evan Cullum / Piano/ Male Backing Vocals
Glen Turrell/ Bass Guitar
Andy Turrell / Drums
David Knott / Lead Guitar
Kirsty Madgin / Saxaphone
Nicky Knott / Female Vocals / Priscilla Presley
Sandi Da Cunha / Female Vocals / Priscilla Presley
Come and join us for another exhilarating show at the Rhumbelow Theatre as we commemorate 40 years of the passing of Elvis Presley.
This show is for audiences of all ages and not to be missed, with all-time favourites such as Whole Lot Of Loving, That's Alright Mama, G.I. Blues, Blue Suede Shoes, Jailhouse Rock, Heartbreak Hotel, Johnny B. Goode and Suspicious Minds, just to name a few.
" ELVIS WHISPERED A DREAM IN EVERYBODY'S EAR, AND SOMEHOW WE ALL DREAMED IT". :- Bruce Springsteen
Durban's Top Talent at the Rhumbelow Theatre.
R 150-00 a ticket
Loyalty Card Holders (Fri Night – R 100-00)
(R 130-00 Pensioners 1st Weekend ONLY)
Contact Roland for large group booking discounts – 20 or more
(Braais will be available should you wish to cook some meat – DBN ONLY)
Limited secure parking available Booking is essential.
Bar Available (no alcohol may be brought on to the premises)
Book at COMPUTICKET or email Roland for bookings and get that money rolling in.
Cell 0824998636
Email : roland@stansell.za.net
http://events.durbantheatre.com/
For showbiz news, reviews and interviews don't miss Billy Suter's Website at https://sosuterbill.com/