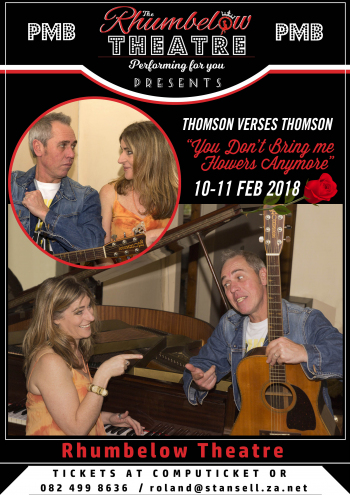 THOMSON Verses THOMSON - "You Don't Bring me Flowers Anymore"
10th Feb 2018 - 11th Feb 2018
Starring
Barry Thomson and Calli Thomson
CompuTicket
Facebook Page
About The Show
RHUMBELOW THEATRE
PMB
Presents
Thomson Verses Thomson
"You Don't Bring me Flowers Anymore"
Barry Thomson and Calli Thomson
SATURDAY 10 FEB 2018 Show starts 20.00 - PMB
SUNDAY 11 FEB 2018 Show starts 14.00 - PMB
(Venues opens 90 minutes before show for picnic dinner)
Thomson Verses Thomson : "You Don't Bring me Flowers Anymore" .
A quirky dou show featuring husband and wife team, Barry and Calli Thomson.
Musical pun fully intended! It's certainly not a sparring match, but a musical conversation through the "verses" of songs
The show is a light hearted look at relationships between famous artists, which often resulted in duets, exposing the situations they were in – good or bad.
Having performed together many times, Barry and Calli present an intimate and funny musical, including several clever medleys that portray conversations – and arguments- between couples in bands, and real life too.
Featuring duets by Don Henley and Stevie Nicks, Neil Diamond and Barbara Streisand, Lady Antebellum, Sting, Sheryl Crow, Tom Petty, Nicole Kidman and Robbie Williams, Bryan Adams and Mel C.
The show is also sprinkled with some hilarious parodies that look on the funny side of relationships.
Barry's new acoustic CD will be on sale.
Durban's Top Talent at the Rhumbelow Theatre
R 150-00 a ticket
(R 130-00 Pensioners)
NOTE – Pensioner Discounts apply 1st weekend ONLY
Loyalty Card Holders (R 120-00)
Contact Roland for large group booking discounts – 20 or more
(Braais will be available should you wish to cook some meat – DBN ONLY)
Limited secure parking available Booking is essential.
Bar Available (no alcohol may be brought on to the premises)
Book at COMPUTICKET
email Roland for bookings and get that money rolling in.
Cell 0824998636
Email : roland@stansell.za.net
http://events.durbantheatre.com/
For showbiz news, reviews and interviews don't miss Billy Suter's Website at https://sosuterbill.com/