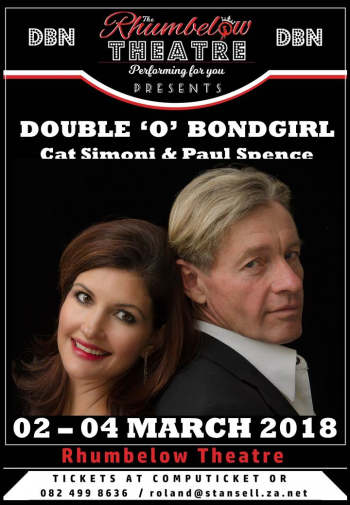 DOUBLE 'O' BONDGIRL
2nd Mar 2018 - 4th Mar 2018
Starring
Cat Simoni & Paul Spence
CompuTicket
Facebook Page
About The Show
RHUMBELOW THEATRE
UMBILO, DURBAN
Presents
DOUBLE 'O' BONDGIRL
Cat Simoni & Paul Spence
FRIDAY 02 MAR 2018 Show starts 20.00 - DBN
SATURDAY 03 MAR 2018 Show starts 20.00 - DBN
SUNDAY 04 MAR 2018 Show starts 14.00 - DBN
SUNDAY 04 MAR 2018 Show starts 18.30 - DBN
(Venues opens 90 minutes before show for picnic dinner)
At last! The Bondgirl's revenge on James...
Have a ball with mischievous Cat Simoni as she slips into her Billion-dollar Bondgirl sheath and barrels headlong through the sexy secret spy world we all know and love to give James some serious pay-back...!
Featuring all the big Bond Movie Themes like you've never heard them before; from Dr No, Goldfinger and Thunderball to Skyfall, Spectre and Casino Royale; and with ex-Royal Shakespeare Company actor Paul Spence appearing as the suave English secret agent hopelessly ensnared in another Machiavellian web of global domination, this hot new cabaret spoof is guaranteed to leave you shaken with laughter and more than just a little stirred...
Starring Westville/Ritz chanteuse Cat Simoni, Double 'O' Bondgirl is devised directed by Paul Spence.
Durban's Top Talent at the Rhumbelow Theatre
R 150-00 a ticket
(R 130-00 Pensioners)
NOTE – Pensioner Discounts apply 1st weekend ONLY
Loyalty Card Holders (R 120-00)
Contact Roland for large group booking discounts – 20 or more
(Braais will be available should you wish to cook some meat – DBN ONLY)
Limited secure parking available Booking is essential.
Bar Available (no alcohol may be brought on to the premises)
Book at COMPUTICKET
email Roland for bookings and get that money rolling in.
Cell 0824998636
Email : roland@stansell.za.net
http://events.durbantheatre.com/
For showbiz news, reviews and interviews don't miss Billy Suter's Website at https://sosuterbill.com/