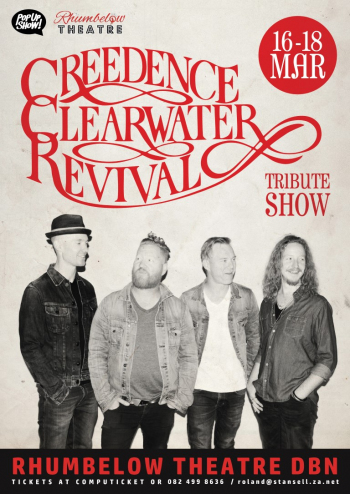 A Tribute to Creedence Clearwater Revival
16th Mar 2018 - 18th Mar 2018
Starring
The Black Lapels - Rob Warren, Garth Warren, Gareth Gale & Rusty Red
About The Show
RHUMBELOW THEATRE
St Cyprians Church Hall, Umbilo Rd
Presents
The Black Lapels Presents
A Tribute to Creedence Clearwater Revival
Rob Warren, Garth Warren, Gareth Gale & Rusty Red
FRIDAY 16 MARCH 2018 Show starts 20.00 - DBN
SATURDAY 17 MARCH 2018 Show starts 20.00 - DBN
SUNDAY 18 MARCH 2018 Show starts 14.00 - DBN
(Venues opens 90 minutes before show for picnic)
Let the Black Lapels (Rob Warren, Garth Warren, Gareth Gale and Luke Wyngaard) transport you back to the late 60's and early 70's by performing their sell out and incomparable musical tribute to the Creedence Clearwater Revival Band.
The CCR show allows the Black Lapels to crank up the amps and head full tilt into this not to be missed performance! The set list includes all your favourite hits including, 'Fortunate Son', 'Looking out my Back Door', 'Down on the Corner', 'Up around the Bend', Born on the Bayou', 'Green River' and many more. Highlights of the show include intimate renditions of CCR classics like 'Lodi' performed solo by Lapels front man Rob Warren. The Lapels rhythm section featuring Garth Warren (bass) and Gareth Gale (drums) keep the set moving along at an energetic pace and Rusty Red (lead guitar) reproduces CCR guitar lines with minimum effort!
All of this adds up to The Black Lapels finest work to date!
Durban's Top Talent at the Rhumbelow Theatre
R 150-00 a ticket
Loyalty Card Holders (Fri Night – R 100-00)
(R 130-00 Pensioners 1st Weekend ONLY)
Loyalty Card HoldersContact

Roland for large group booking discounts – 20 or more
(NO Braais available at the church
Limited secure parking available Booking is essential.
Bar Available (no alcohol may be brought on to the premises)
Book at COMPUTICKET
email Roland for bookings and get that money rolling in.
Cell 0824998636
Email : roland@stansell.za.net
http://events.durbantheatre.com/
For showbiz news, reviews and interviews don't miss Billy Suter's Website at https://sosuterbill.com/