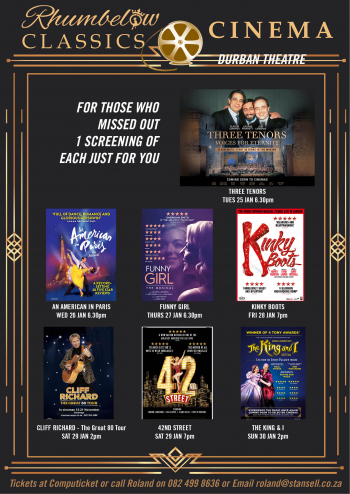 2022 CINEMA WINDUP
25th Jan 2022 - 30th Jan 2022
Starring
Top London casts for all shows.
CompuTicket
Facebook Page
About The Show
RHUMBELOW CLASSICS CINEMA
ON THE BIG SCREEN
42 Cunningham Rd off Bartle Road, Durban
Proudly presents
FOR THOSE WHO MISSED OUT - 1 SCREENING OF EACH JUST FOR YOU
TUE 25/01/2022 DBN 6.30pm THREE TENORS - VOICES FOR ETERNITY
WED 26/01/2022 DBN 6.30pm AN AMERICAN IN PARIS - The Musical
THU 2701/2022 DBN 6.30pm FUNNY GIRL - The Musical
FRI 28/01/2022 DBN 7.00pm KINKY BOOTS - THE FEEL-GOOD HIT MUSICAL
SAT 29/01/2022 DBN 2.00pm CLIFF RICHARD - – The Great 80 Tour
SAT 29/01/2022 DBN 7.00pm 42ND STREET - The Musical
SUN 30/01/2022 DBN 2.00pm THE KING & I
THREE TENORS - VOICES FOR ETERNITY - 90 MIN
Three Tenors: Voices for Eternity is a cinematic event 30 years in the making.
It's been 30 years since Luciano Pavarotti, José Carreras and Plácido Domingo made their historic debut as The Three Tenors at the ancient baths of Caracalla on the eve of the 1990 Football World Cup Final. A global audience of 1.6 billion people watched this groundbreaking concert - and it catapulted classical music into a completely new dimension, becoming the best-selling classical album of all time.
Three Tenors: Voices for Eternity celebrates the emotional highlights of that first concert and the sequel in Los Angeles. With brand new interviews and never-before-seen backstage footage, this documentary offers a fascinating insight into the rivalries and friendships of the legendary opera stars from 1990 through to Pavarotti's passing in 2007.
As opera houses remain silent and football stadiums are empty of supporters, fans can relive the moment history was made by The Three Tenors in Rome 1990, and remember the night when the 'Beautiful Game' crossed a cultural divide and changed classical music forever.
AN AMERICAN IN PARIS - The Musical - 155 minutes (including one 15-minute interval)
This breathtakingly beautiful Tony® Award-winning Broadway musical, inspired by the Oscar® winning MGM film, tells the impassioned story of discovering love in the 'City of Light'. Featuring the gorgeous music and lyrics of George and Ira Gershwin (including the classic hits 'S Wonderful and I Got Rhythm), stunning designs, and show-stopping choreography. With a record-setting 28 five-star reviews from critics, An American in Paris is coming from London's West End to The Rhumbelow Classics Cinema.
Jerry Mulligan is an American GI striving to make it as a painter in a city suddenly bursting with hope and possibility. Following a chance encounter with a beautiful young dancer named Lise, the streets of Paris become the backdrop to a sensuous, modern romance of art, friendship and love in the aftermath of war...
Experience this "truly ravishing" (The Guardian) production in the comfort of your local cinema.
FUNNY GIRL - The Musical - 165 minutes (including one 15-minute interval)
Funny Girl, the smash-hit stage production starring Sheridan Smith, returns to cinemas. Michael Mayer's production played to critical acclaim at the Menier Chocolate Factory, at the Savoy Theatre in the West End and on tour. It was filmed during the final week of its run at the Manchester Palace Theatre by Digital Theatre and released in cinemas by Trafalgar Releasing in 2018.
Darius Campbell played Nick Arnstein to Smith's Fanny Brice, and they were joined by Nigel Barber (Florenz Ziegfeld), Zoë Ann Bown (Mrs. Meeker), Martin Callaghan (Mr. Keeney), Jennifer Harding (Emma), Rachel Izen (Mrs Brice), Joshua Lay (Eddie) and Myra Sands (Mrs. Strakosh); with Rhianne Alleyne, Kit Benjamin, Lloyd Davies, Flora Dawson, Joseph Dockree, Abigayle Honeywill, Brontë Lavine, David Mcintosh, Peter Nash, Gillian Parkhouse, Tom Partridge, Nova Skipp, Alexandra Waite-Roberts, Sam Wingfield and Alexandra Wright.
KINKY BOOTS - THE FEEL-GOOD HIT MUSICAL - 133 minutes (including a 10-minute interval)
The critically acclaimed Kinky Boots The Musical, the winner of every Best Musical award, will be screened at The Rhumbelow Theatre. With songs from Grammy and Tony® award winning pop icon Cyndi Lauper, book by legendary Broadway playwright Harvey Fierstein (La Cage Aux Folles), and direction and choreography by Jerry Mitchell (Legally Blonde, Hairspray), Kinky Boots The Musical stars the original West End leads, Matt Henry and Killian Donnelly.
CLIFF RICHARD - – The Great 80 Tour - 135 minutes (including one 20-minute interval)
In 2018, Sir Cliff Richard was joined by 100,000 fans in cinemas worldwide to celebrate 60 years in the music industry.
This November he invites you all to be part of the most fabulous big screen party of the year! The Great 80 Tour recorded LIVE at the Royal Albert Hall now showing at your local cinema. Featuring a selection of his greatest hits, this will be Cliff Richard's most exciting tour yet. His incredible energy and passion on stage will sweep you off your feet and be sure to have you swaying in the aisles.
42ND STREET - The Musical - 154 minutes (including one 20-minute interval)
42nd Street, the legendary Broadway musical theatre classic, is a 'glorious' (★★★★★ Express) and 'utterly moreish extravaganza of glitz' (★★★★★ Times). Telling the story of Peggy Sawyer, a talented young performer with stars in her eyes who gets her big break on Broadway, this is the largest ever staging of the Tony® Award-winning musical and it was filmed live at the magnificent Theatre Royal, Drury Lane, in the heart of London's West End. Fresh off the bus from small-town America Peggy is just another face in the chorus line on Broadway's newest show. But when the leading lady gets injured, Peggy might just have the shot at stardom she's always dreamed of… Directed by the show author, Mark Bramble, this 'achingly beautiful revival of an American classic' (★★★★★ Telegraph) stars national treasure Bonnie Langford as Dorothy Brock, Tom Lister as Julian Marsh, Clare Halse as Peggy Sawyer and Philip Bertioli as Billy Lawlor, performing with a dazzling tap-dancing and show-stopping ensemble cast. Featuring iconic songs 42nd Street, We're In The Money, Lullaby Of Broadway, Shuffle Off To Buffalo, Dames and I Only Have Eyes For You, this is pure musical magic on the big screen – entertainment doesn't get bigger than this!
THE KING & I - 172 minutes (including one 15-minute interval)
The multi-award winning and critically acclaimed Lincoln Center Theater's production of Rodgers and Hammerstein's The King And I recorded live at London's iconic Palladium returns to the big screen. Reprising her Tony Award-winning role, "Broadway musical's undisputed Queen" (The Sunday Times) Kelli O'Hara (Anna) takes to the stage alongside Tony and Oscar nominee Ken Watanabe (The King) in a "powerhouse" (The Times) performance. Also returning to her Tony Award winning role as Lady Thiang is Ruthie Ann Miles.
Set in 1860s Bangkok, the musical tells the story of the unconventional and tempestuous relationship that develops between the King of Siam and Anna, a British schoolteacher whom the modernist King, in an imperialistic world, brings to Siam to teach his many wives and children. With one of the finest scores ever written including Whistle a Happy Tune, Getting to Know You, and Shall We Dance, and featuring a company of over 50 world-class performers, The King and I is a testament to the lavish heritage of gloriously romantic musical theatre – it is the greatest musical from the golden age of musicals..
R 100-00 a ticket
Bring food picnic baskets or buy at the venue.
ALL SEATING WILL BE AT SEPARATE TABLES AND WE WILL OBVIOUSLY BE SEATING CO-HABITING COUPLES AND/OR FAMILY MEMBERS. COVID LIMIT – MAX 50 %
Limited secure parking available
Booking is essential.
FULL BAR & COOLDRINKS, COFFEE & TEA ON SALE
Cell 0824998636
BOOKINGS ON EMAIL PLEASE : roland@stansell.co.za http://events.durbantheatre.com/ or COMPUTICKET
For showbiz news, reviews and interviews don't miss Billy Suter's Website at https://sosuterbill.com/
ALL TICKETS MUST BE PRE-BOOKED
NO WALKINS ALLOWED
PLEASE NOTE THE FOLLOWING COVID-19 PROTOCOLS FOR PATRONS
HEALTH AND SAFETY PROTOCOLS FOR PATRONS

Patrons need to wear a face and nose covering at all times in the venue except when eating or drinking.
All patrons will have their temperatures taken on arrival at the venue.
All patrons will be required to complete documents relating to Travel and Covid-19 contacts.
All patrons will be required to complete an indemnity form.
All patrons will be required to complete an attendance register with all appropriate information including confirmation of co-habiting when couples attend.
All patrons will be hand sanitized on arrival and at interval.
All patrons will be requested to bring hand sanitizer with them to the venue.
Any patron who does not meet the required Health & Safety protocols and temperature check will be refused entry.
Patrons above the age of 60 or a person with co-morbidities will be discouraged from attending performances. (GOVT GUIDELINES – please be guided by your own health status)