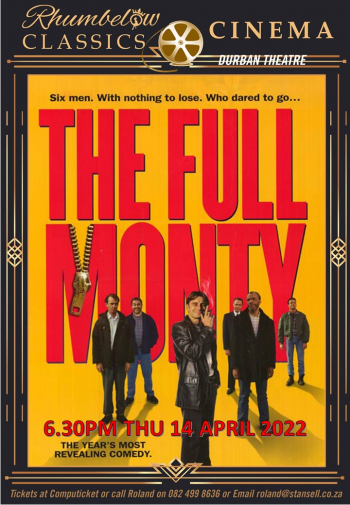 RHUMBELOW FILM FESTIVAL - THE FULL MONTY
14th Apr 2022 - 14th Apr 2022
Starring
CompuTicket
Facebook Page
YouTube
About The Show
Due to no power at Umbilo where the Rhumbelow is situated for the last 2 days - Likely to be off for possible 7 days. Also further predictions of rain will also make you, the public, not feel safe venturing out with safety concerns.
We have made a decision to postpone the Rhumbelow Easter Film Festival.
Regards Roland Rhumbelow Theatre
RHUMBELOW CLASSICS CINEMA
ON THE BIG SCREEN
42 Cunningham Rd off Bartle Road, Durban
Proudly presents
EASTER FILM FESTIVAL
Date & Time
THU 14/04/2022 DBN 6.30pm THE FULL MONTY
FRI 15.04/2022 DBN 2.00pm THE JUNGLE BOOK
FRI 15/04/2022 DBN 6.30pm CATS - STAGE RECORDING
SAT 16/04/2022 DBN 2.00pm WALT DISNEY'S BLACKBEARD'S GHOST
SAT 16/04/2022 DBN 6.30pm SATURDAY NIGHT FEVER
SUN 17/04/2022 DBN 2.00pm THOROUGHLY MODERN MILLIE
SUN 17/04/2022 DBN 6.30pm OKLAHOMA !
MON 18/04/2022 DBN 2.00pm WALT DISNEY – MARY POPPINS
MON 18/04/2022 DBN 6.30pm MOULIN ROUGE!
Public Screening licensed through MPLC (Motion Picture Licensing Company).
THE FULL MONTY – 91 MIN
Six unemployed men, inspired by a touring group of male strippers, decide they can make a small fortune by putting on a striptease show of their own-but with one small difference. They intend to go the "full monty" and strip completely naked! In this hilarious, heartfelt comedy, these six friends discover the inner strength to bare it all in front of the world.
This "enchantingly funny crowd-pleasing" comedy (David Ansen, Newsweek) features the music of Donna Summer, Gary Glitter, Sister Sledge and Tom Jones.
THE JUNGLE BOOK – 76 MIN
The Jungle Book is a 1967 American animated musical comedy film produced by Walt Disney Productions. Based on Rudyard Kipling's 1894 book of the same name, it is the 19th Disney animated feature film. Directed by Wolfgang Reitherman, it was the last film to be produced by Walt Disney, who died during its production. The plot follows Mowgli, a feral child raised in the Indian jungle by wolves, as his friends Bagheera the panther and Baloo the bear try to convince him to leave the jungle before the evil tiger Shere Khan arrives.
CATS – THE LIVE RECORDED STAGE PRODUCTION – 115 MIN
Cats is a 1998 direct-to-video musical film based on the 1981 stage musical Cats by Andrew Lloyd Webber, itself based on Old Possum's Book of Practical Cats (1939) by T. S. Eliot. Lloyd Webber oversaw orchestration for the film and called on Gillian Lynne, the show's original choreographer, to train the cast for the film. David Mallet served as the director of this production.
The cast for the film consists of former and contemporary members of various international stage productions of Cats, who were invited to reprise their stage roles. Among the cast were Elaine Paige and Susan Jane Tanner who originated the roles of Grizabella and Jellylorum in the West End respectively, and Ken Page who originated the role of Old Deuteronomy on Broadway. The exception was John Mills who was brought on to play Gus for the first time.
WALT DISNEY'S BLACKBEARD'S GHOST – 106 MIN
Blackbeard's Ghost is a 1968 American fantasy comedy film directed by Robert Stevenson and starring Peter Ustinov, Dean Jones, Suzanne Pleshette. It was produced by Walt Disney Productions and Bill Walsh. It is based upon the 1965 novel of the same name by Ben Stahl and was shot at the Walt Disney Studios.
On the Carolina coast, Godolphin College's new track coach lodges at Blackbeard's Inn, run by the Daughters of the Buccaneers, who claim to be descendants of the notorious pirate, and who risk losing their hotel to the local mobster.
SATURDAY NIGHT FEVER – 114 MIN
Saturday Night Fever is a 1977 American dance drama film directed by John Badham and produced by Robert Stigwood. It stars John Travolta as Tony Manero, a young Italian-American man from Brooklyn who spends his weekends dancing and drinking at a local discothèque while dealing with social tensions and general restlessness and disillusionment with his life as he feels directionless and trapped in his working-class ethnic neighborhood.
The story is based upon "Tribal Rites of the New Saturday Night", an article by music writer Nik Cohn, first published in a June 1976 issue of New York magazine. The film features music by the Bee Gees and many other prominent artists of the disco era.
A major critical and commercial success, Saturday Night Fever had a tremendous effect on popular culture of the late 1970s. The film helped significantly to popularize disco music around the world and made Travolta, who was already well known from his role on TV's Welcome Back, Kotter, a household name.
THOROUGHLY MODERN MILLIE – 140 MIN
Thoroughly Modern Millie is a 1967 American musical-romantic comedy film directed by George Roy Hill and starring Julie Andrews. The screenplay, by Richard Morris based on the 1956 British musical Chrysanthemum, follows a naïve young woman who finds herself in a series of madcap adventures when she sets her sights on marrying her wealthy boss. The film also stars Mary Tyler Moore, James Fox, John Gavin, Carol Channing, and Beatrice Lillie.
The film was nominated for seven Academy Awards and five Golden Globe Awards. It ranked eighth among high-grossing films of 1967. In 2000, it was adapted for a successful stage musical of the same name.
OKLAHOMA ! – THE MOVIE – 145 MIN
Oklahoma! is a 1955 American musical film based on the 1943 musical of the same name by Richard Rodgers and Oscar Hammerstein II, which in turn was based on the 1931 play Green Grow The Lilacs written by Lynn Riggs. It stars Gordon MacRae, Shirley Jones (in her film debut), Rod Steiger, Charlotte Greenwood, Gloria Grahame, Gene Nelson, James Whitmore, and Eddie Albert. The production was the only musical directed by Fred Zinnemann.
Set in Oklahoma Territory, it tells the story of farm girl Laurey Williams (Jones) and her courtship by two rival suitors, cowboy Curly McLain (MacRae) and the sinister and frightening farmhand Jud Fry (Steiger). A secondary romance concerns Laurey's friend, Ado Annie (Grahame), and cowboy Will Parker (Nelson), who also has an unwilling rival. A background theme is the territory's aspiration for statehood, and the local conflict between cattlemen and farmers.
WALT DISNEY – MARY POPPINS – 139 MIN
Mary Poppins is a 1964 American musical fantasy film directed by Robert Stevenson and produced by Walt Disney, with songs written and composed by the Sherman Brothers. The screenplay is by Bill Walsh and Don DaGradi, based on P. L. Travers's book series Mary Poppins. The film, which combines live-action and animation, stars Julie Andrews in her feature film debut as Mary Poppins, who visits a dysfunctional family in London and employs her unique brand of lifestyle to improve the family's dynamic. Dick Van Dyke, David Tomlinson, and Glynis Johns are featured in supporting roles. The film was shot entirely at the Walt Disney Studios in Burbank, California, using painted London background scenes.
MOULIN ROUGE! – 127 MIN
Moulin Rouge! is a 2001 jukebox musical romantic drama film directed, co-produced, and co-written by Baz Luhrmann. It follows a young English poet, Christian, who falls in love with the star of the Moulin Rouge, cabaret actress and courtesan Satine. The film uses the musical setting of the Montmartre Quarter of Paris and is the final part of Luhrmann's "Red Curtain Trilogy, it stars Nicole Kidman and Ewan McGregor. John Leguizamo, Jim Broadbent, and Richard Roxburgh feature in supporting roles.
R 100-00 a ticket
Bring food picnic baskets or buy at the venue.
ALL SEATING WILL BE AT SEPARATE TABLES AND WE WILL OBVIOUSLY BE SEATING CO-HABITING COUPLES AND/OR FAMILY MEMBERS. COVID LIMIT – MAX 50 %
Limited secure parking available
Booking is essential.
FULL BAR - no alcohol may be brought on to the property
Cell 0824998636
BOOKINGS ON EMAIL PLEASE : roland@stansell.co.za http://events.durbantheatre.com/ or COMPUTICKET
For showbiz news, reviews and interviews don't miss Billy Suter's Website at https://sosuterbill.com/
ALL TICKETS MUST BE PRE-BOOKED
NO WALKINS ALLOWED
PLEASE NOTE THE FOLLOWING COVID-19 PROTOCOLS FOR PATRONS
HEALTH AND SAFETY PROTOCOLS FOR PATRONS

Patrons need to wear a face and nose covering at all times in the venue except when eating or drinking.
All patrons will have their temperatures taken on arrival at the venue.
Any patron who does not meet the required Health & Safety protocols and temperature check will be refused entry.