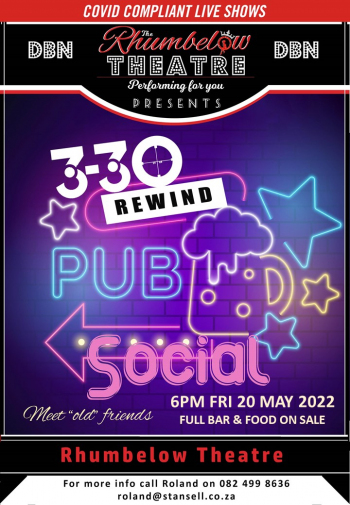 330 REWIND PUB EVENING
20th May 2022 - 20th May 2022
Starring
Facebook Page
About The Show
RHUMBELOW THEATRE
42 Cunningham Rd off Bartle Road, Durban
When you come to a Rhumbelow Event please bring some non-perishable food item for us to donate to MOTH COTTAGES to support those that are struggling.
330 REWIND PUB EVENING
FRIDAY 20 MAY 2022 The Pub will be open from 6pm
Next 330 REWIND PARTY is at ORIGIN on Sat 21 May 2022
The Rhumbelow will be hosting a monthly Get Together for the "old" 330 party revelers. It will take the format of a social pub evening with 330 Pub Music being played on the evening. This is an opportunity to connect with "old" Club friends that you may not see around that often.
Please join us on a monthly basis at The Rhumbelow for a fun evening connecting with the "old" crew.
When you join us at the Rhumbelow you will receive a Complimentary Entry to the 330 REWIND PARTY at ORIGIN.
Bar Available
(no alcohol may be brought on to the premises)
FOOD ON SALE AT THE RHUMBELOW
Contact Roland for more info - Cell 0824998636 or email roland@stansell.co.za
http://events.durbantheatre.com/
For showbiz news, reviews and interviews don't miss Billy Suter's Website at https://sosuterbill.com/